Wauwatosa East theater volunteer group donates $88,000 over 10 years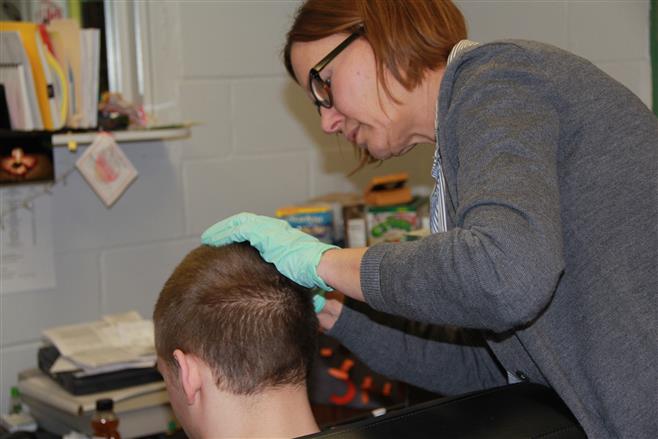 Ten years ago, June 10, a group of Tosa East parents met in Mary Yentz's backyard to talk about how they could support their children's experiences in theater at Wauwatosa East High School. Since that meeting, the group has donated $88,000 to the theater for infrastructure, supplies, educational opportunities and scholarships.
"There were a lot of budget cuts, and we were concerned the arts needed more support," Yentz said.
Although membership of Friends of Theatre Arts has morphed over the years, the all-volunteer organization remains vibrant as they celebrate their 10th anniversary. They bring in more than 30 adult volunteers to help with each show from costumes to meals, and recently took on the project of remodeling the theater's makeup room.
FTA recently granted the district $10,000 for work on the makeup room and has also found people to donate their time and services to the project. The new room will have a countertop, better lighting, running water and more stools and work space. A wall where departing seniors have signed their names will remain intact.
"The students are so committed to theater, they're easy to support and very appreciative of our efforts," Yentz said.
Over the last 10 years, the group has donated $33,000 to such improvements. Another $27,000 has gone toward production support, such as microphones and a new sound board. They've also spent about $7,400 on educational opportunities, sending kids to theater camps and bringing in experts for workshops.
The fundraising and organizing takes the work of about nine volunteer board members, who send letters out at the beginning of the year asking for donations, meet regularly and help with odds and ends around the theater.
"The volunteers for FTA are some of the best I've ever worked with," Yentz said. "They're all about the kids and the kids succeeding."
Jen Rakowiecki, a Tosa East parent who works on patron relations, got involved when she saw the opportunity the theater afforded her kids, who were new to the district.
"My son, he knew no one when he came here," Rackowiecki said. "When you're in a crew, there's a mutual respect, and they really appreciate each other."
A graphic designer, Rackowiecki now helps with the website, social media, costume sewing and more.
And FTA's support doesn't end with high school graduation.
About $21,000 of FTA money has gone toward scholarships to help students study subjects related to theater at a higher level.
Wenie Lado, who graduated in 2012 at Tosa East, got a scholarship to help her at St. Olaf College, where she studies vocal performance. She said she hasn't forgotten what FTA did for her in high school and beyond.
"I love FTA," Lado said. "For them to acknowledge my hard work, that really meant a lot to me. They really do give it to the people they believe have grown through this experience and will eventually have an impact."
To learn more about FTA or to get involved, visit TosaEastTheatre.org/friends-of-theatre-arts-fta.