Wauwatosa resident to open diabetic-friendly microbrewery in August
After a failed Kickstarter campaign, Big Head Brewing Company is close to becoming the only microbrewery in Wauwatosa.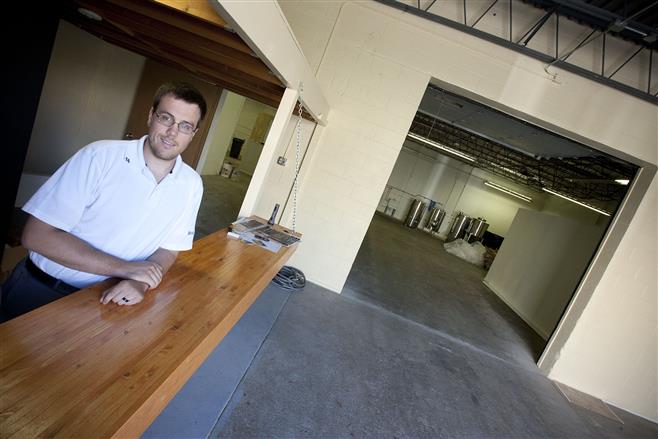 "If at first you don't succeed, try again" is the saying that is pushing Andrew Dillard to bring his microbrewery to Wauwatosa.
After a failed Kickstarter campaign, the microbrewery is so close to being a reality that Dillard predicts it to open mid-August. When it opens his business, called Big Head Brewery after his unusually large cranium, will be the only microbrewery in Wauwatosa.
The microbrewery, located at 6204 W. State St., will double as a taphouse, allowing customers to taste the beer brewed in the back. While Dillard has tentative plans to sell at area bars, the taphouse will be the only place to buy a glass of his beer.
Dillard currently has no plans for bottling and selling Big Head brew.
Finding a niche
Dillard knows his two-man operation would be dead on arrival if it tried to slug it out with Milwaukee area breweries such as Sprecher or Lakefront, so he decided to carve a niche.
His niche: to sell low-carbohydrate, diabetic-friendly craft beers. He got the idea after lamenting that he cannot share his favorite, carbohydrate-laden craft beers with his wife, a type 1 diabetic. He said he hopes his beer will have the craft taste without the carbohydrates and sugar typical of most craft beers.
Using ridicule or health problems to his advantage is the center point of Dillard's business strategy. He was teased for having a big head in school, so he decided to name his brewery after what he was ridiculed for. One of his beers, Awkward Moose Amber Ale, got its name from his friends teasing him after he knocked over a tree.
Kickstarter backfire
Starting his own business and brewing his own beer have been something of a dream for Dillard since he was a young man. He's been brewing in his garage for years and pledged to himself at last year's Brewfest he would start his own brewery in Wauwatosa before next year's fest.
While his grand opening barely missed the mark of this year's July 27 Brewfest, he's beaten back setbacks to get his dream off the ground. After finding no financial help from banks or business investors, Dillard opened a Kickstarter account to raise money for the brewery.
Kickstarter is a "micro pledge" site where people can give small amounts of money to fund projects. Dillard was promising Big Head merchandise to those who pledged, but only made $1,000 out of his $27,000 goal.
While the campaign fell far short of its goal, Dillard found a business partner willing to throw in his chips to Big Head. The partner, Pat Fisher, is a semi-retired engineer who has no brewing experience but a lot of excitement about the project.
The two signed the lease for what would be their microbrewery in the middle of March. Since then, they've been fixing up the place, ordering new equipment and eagerly preparing for their new microbrewery.
The home stretch
Big Head still needs to obtain a federal and state brewers license, but doesn't need to obtain a class B liquor license from the city of Wauwatosa. The brewers license would allow the two to distribute and sell alcohol on their property.
The brewery will be able to brew 100 gallons at once and Dillard predicts the brewery will sell anywhere between 30 and 60 gallons per week.
Dillard is going to keep his day job until the business is successful, but if it takes off, he will become a full-time brewer.
"It's been exciting to see all this happen," he said. "It's kind of hard to believe at points but it's kind of crazy and kind of cool. We're still a long way from being remotely successful but a lot has happened."
Just the facts
WHO: Andrew Dillard, Wauwatosa native
WHAT: Opening diabetic-friendly brewery
WHERE: 6204 W. State St.
WHEN: Mid August