Wauwatosa shop strikes cats' fancies
'Purr Tosa' offers all things cat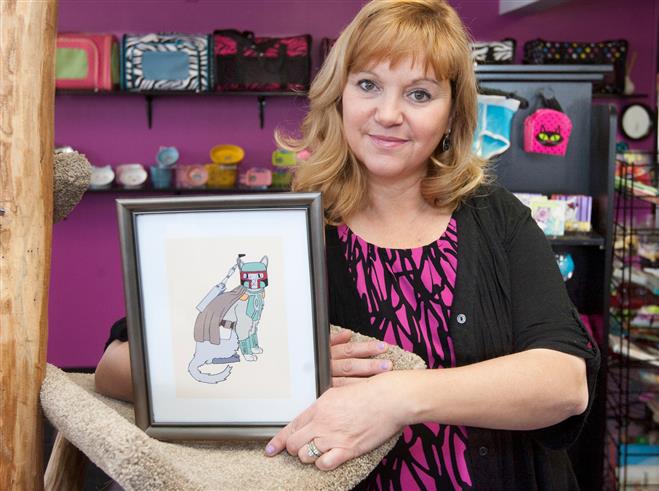 If you think the world has gone to the dogs, Amy Dedow's shop might make you think twice.
"There's so much dog stuff out there, I wanted cat people to have somewhere they could go," said Dedow, who opened Purr Tosa in February.
The shop really is all things cat, with half the space full of fancy collars, cat toys and furniture, and the other half filled with cat-inspired clothes and knickknacks gathered primarily from artisans on Etsy.
But it is about more than merchandise.
"I feel like I can support the cat community and give a place for people to share stories and their love of cats," said Dedow, who fosters cats and plans to host adoption events and classes at the store. .
It's a dream Dedow nurtured for years, maybe even as a girl on the family farm in Vandyne, Wis., where she adopted one gold tabby after another to trick her father, Glen Dedow, into thinking they had only one cat.
"We had like 14," Dedow admitted.
The dream really didn't take shape until the summer of 2011, when her father died and she visited another cat lover's stores in Door County.
Around that same time, Dedow, who worked for years in geriatric case management, asked her 16-year-old daughter Sophia Bauer: If you could do anything you, what would you do?
When Sophia turned the interrogation on Dedow, she didn't hesitate.
"I would love to have a store that's all cat stuff," she said.
Her share of her father's inheritance helped ease Dedow's fear that pursuing her dream would take away from her family, giving her enough money to quit her case management job, take a semester-long business course and start the shop.
Support from her husband, Kurt Bauer, and their kids, Sophia and Owen, helped, too.
Today, Dedow said, "The best part of it is meeting the people who come in. That's the kind of community I want to create."
JUST THE FACTS
BUSINESS:
Purr Tosa, 12201 W. North Ave.
WEB:
purrtosa.com and Facebook
PHONE:
(414) 476-9200
OWNER:
Amy Dedow
INCORPORATED:
February 2013
TYPE OF BUSINESS:
clothes and accessories for cats and cat lovers
PEARLS OF WISDOM:
"I want Wauwatosa to be unique. It shouldn't be a bunch of chain stores. It's the small shops that make it different."