Wauwatosa's North Avenue and Village to be studied for makeover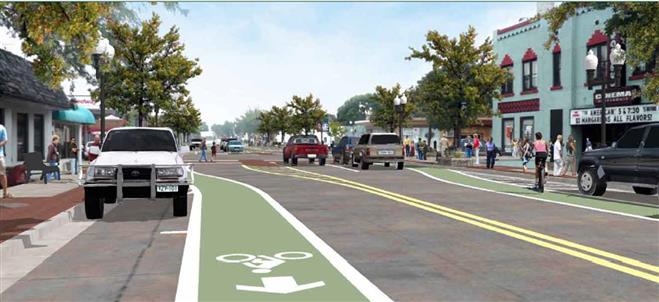 A year after producing strategic plans for the Village and the North Avenue East Town commercial districts, the city is taking the next step with a study of how to implement them.
In both parts of Wauwatosa, the studies will take in traffic and turning patterns, and consider how to better balance pedestrian and vehicle movement. Slowing down cars - on State Street in the Village, and especially along the North Avenue corridor - is one city goal.
The studies, which will take several months, are to be done by Ayres Associates of Waukesha on a contract worth from $34,000 to $46,000, depending on various options, said Public Works Director William Porter. Ayres has done a number of street studies for the city.
Highly visible strategies
Some elements of the Village strategic plan were constructed this fall, including a more prominent walkway and landscaping at the corner of State Street and Harwood Avenue.
In the Village, no fewer than seven intersections will be looked at, and, for the parking lot in front of Starbucks, new access points and vehicle circulation patterns will be considered.
Perhaps the biggest change that may arise from the study is extending Harwood Avenue through Root Common Park, creating what would be a full intersection at Harwood and Wauwatosa avenues. Traffic on the lower part of Harwood, in front of Le Reve restaurant and other businesses, which is now one-way, would become two-way.
A BID for something better
The Village Business Improvement District supports the study, said Jim Plaisted, the BID's executive director.
The Village master plan "identifies some solutions for access to those businesses on Harwood, as well as cleaning up some of the traffic nightmare" that occurs on the angled extension of Harwood that passes by Baskin-Robbins, Plaisted said.
"That whole traffic pattern is dysfunctional," he said, noting the extension of Harwood is one suggestion.
Plaisted nalso oted that Harwood was once a through-street. He said it's too early to say if the BID members support reopening Harwood. gathering the information and what it would change about Village traffic is the first step.
Chicanes elimination
On North Avenue, the consultant will be considering the elimination of the chicanes, the lines in the road that have drivers weaving back and forth.
"The chicane concept accomplished its intended goal by decreasing through-traffic volume and, at least in the short-term, average traffic speed," says a planning document shown to the city's Traffic & Safety Committee, which recommended hiring Ayres to the Common Council. "On the other hand, motorists find the pavement markings difficult to see in bad weather; the complexity of negotiating the line of travel distracts from seeing pedestrians or finding destinations, and compliance is inconsistent as motorists sometimes use the chicane improperly to pass slower traffic."
The changes Ayres recommends for North Avenue, from 60th Street to Wauwatosa Avenue, would be phased in over a period of years, said Alderman Joel Tilleson, whose district includes the east end of North Avenue. The changes will likely involve restriping the road more than heavy construction, he said.
"The master plan for North Avenue recommends removing the chicanes," he said, "and not only pulling the chicanes out but putting in a four-way stop at both 72nd and 64th (streets)."
These will be among the first changes made, he said.
The four-way stops are "going to be monumental for slowing traffic down and making it easier for people to cross North Avenue," he said.
What people want, and don't
By pulling the chicanes out, parking space increases, Tilleson said.
More distinct bike lanes also would be striped under the plan, and are another element that has a "taming" effect on traffic, Tilleson said.
"We're hearing from the businesses that they want additional parking. People that are visiting the area and coming in from outside of Milwaukee want to know where the parking is versus having to drive into side neighborhoods to find it," he said.
Some elements may not be as welcomed.
Fewer left-turn opportunities are likely - possibly at 68th and 60th streets, and Wauwatosa Avenue - the plan says. The chicanes provide a turning lane every other block.
"The whole idea is to slow down North Avenue … and that's going to be controversial," said Alderman Peter Donegan, who represents the south side of North in the East Town area.
Conflicting ideals
North has two uses that are sometimes in conflict.
The flourishing business district of East Town mostly serves neighborhood residents, who compete for use of the avenue with through-travelers, who are may not be interested in slowing down or stopping.
"Those of us who live on the north and south of North Avenue, between 60th and 76th, we have a strong consensus that says we want to make that a very healthy commercial district, one that primarily serves the surrounding neighborhoods," Donegan said.
The city's plan for East Town confirms this, he said.
"We have to make this commercial district more accessible and more friendly to its neighborhoods."