Tosa West's Matt Good named NOW's football coach of the year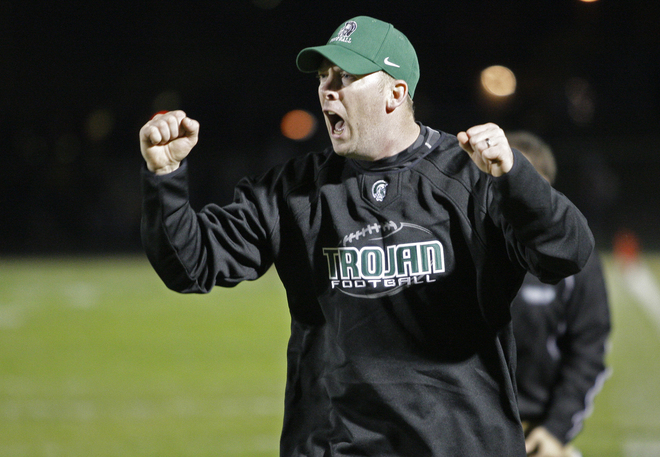 When Wauwatosa West football coach Matt Good goes in to see his boss for an evaluation this week, he will be looking across the desk at one of his assistant coaches.
That's because the Trojans athletic and activities director, Jeff Gabrielsen - Good's boss off the field - is his defensive coordinator on the field.
So is it an awkward situation?
"He makes it easy," said the 34-year-old Good. "I'm the boss on the football field. Everywhere else he's my boss."
Good was thrilled to see Gabrielsen come on the scene last summer.
"When he came in as the AD I was real excited. He hesitated at first, but I talked him into coaching because of his football background. I was excited from Day 1 to have him come aboard. I run the offense, he runs the defense."
Turnaround takes place
And Gabrielsen has seen the positive things Good has done up close.
This year the Trojans finished second in the new, tough Woodland-West Division, compiling a 7-1 conference mark. Their only loss came to division champion Pewaukee.
They also qualified for the playoffs for the first time in several years, before losing in the first round to a good Greendale team, who they beat in the regular season.
Good tops off the year by being named the 2012 NOW Newspapers All-Suburban Coach of the Year. The selection was one of the most difficult to make in NOW history. You can read more about the process in this column by JR Radcliffe.
The journey started last year when Gabrielsen felt Good needed to make some changes. The Trojans had just finished a disappointing 2-7 campaign.
"Matt needed to be more hands on," Gabrielsen said. "He delegated a lot. I told him you're the head coach, you need to take more of a role.
"He gave an unbelievable effort and became a great coach by getting more involved. This isn't the Packers with Mike McCarthy, who has someone for everything.
"The best thing about being a head coach is to coach, especially in high school. He needed to take control of it. He did a great job."
Switching offenses pays off
Gabrielsen was impressed with Good's new approach.
"He realized things needed to get better," Gabrielsen said. "Sometimes there is a resistance to change. He was not intimidated. He embraced the opportunity.
"I told him you don't have to reinvent the wheel, just start using it."
One of the first things Good did was change the offense to take advantage of his personnel.
"When we switched offenses, I felt we had a chance to put a lot of points on the board," Good said. "These kids were athletes, super explosive. They can compete."
So he switched offenses, changing from a spread with three to four wide receivers and one running back to a wing-T.
"With the wing-T, we were under the center and our quarterback could just hand the ball to our best players, instead of relying on a pass being made," Good said.
Good had confidence in his players with the switch.
"We knew we had a lot of skill players," he said. "Our linemen had a chance to be real good. Our offense struggled last year to put the ball in the end zone and we had the same kids coming back.
"We needed to get our guys in space. We felt we had the best athletes in the conference."
Exceeding expectations
Good felt if his team could be 4-4 or 5-3 that would be a major steppingstone.
"But once they were having success, they were like sponges," Good said. "They wanted to experience it more. After all the hard work they started to realize 'We're pretty good.'
"There is no shortcut for success in life. No magic formula. What separates you from the next team is how we go about our business; how they carry themselves in the class room, when they walk down the street.
"When it comes to the character issue, there is always someone watching you, listening."
Good also praised his coaching staff.
"They worked their tails off," he said. "I demanded more from them than ever. They went to clinics, had sit-down sessions, got training on what we did. We needed to be role models for these kids.
"I give a lot of credit to a lot of people. They're a huge part of this award."