Minucci, Castaneda record milestones as Tosa wins tourney
Grapplers wildly successful at Hamilton Duals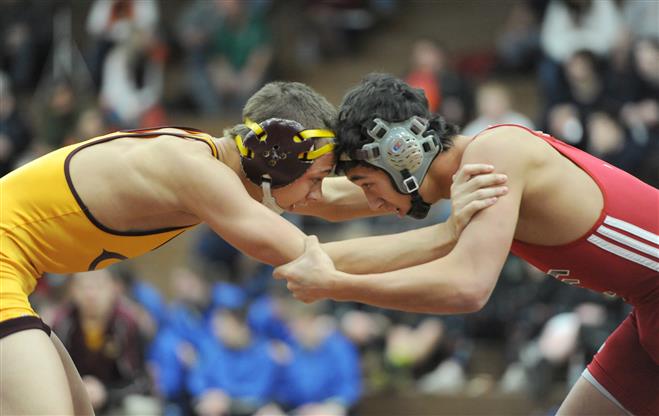 Kai Castaneda became the program's all-time winningest wrestler, AJ Minucci recorded a milestone of his own, and the Wauwatosa grapplers enjoyed a first-place finish at the Milwaukee Hamilton Holiday Duals as part of a superb weekend.
Tosa coasted to the crown, winning 10 duals and recording no fewer than 50 points in any matchup.
"This tournament was exactly what the doctor ordered," coach Kent Morin said. "We have struggled meeting our goals during the month of December because we have had three to five starters out of the lineup all month. This tournament, we got a couple guys back and it really improved our team balance. We won 111 out of a possible 138 matches. That is an outstanding weekend. I was really proud to be a part of this team this weekend. I also consider myself fortunate to have been there for Kai and AJ's record setting accomplishments.
Top-five wrestler
Minucci notched his 100th career victory, topping a foe from Milwaukee Riverside to cross into triple-digit territory. He became the fifth wrestler in Tosa history to accomplish the feat and finished the weekend at 19-0.
"AJ is truly one of the leaders of our program in all aspects," Morin said. "Just a great kid that is a pleasure to coach."
With his win over Bradley Tech, Castaneda (22-4) landed his 133rd career victory for a new program best, passing Glen Kendl, who set the record in 2009.
"This is an absolutely amazing achievement," Morin said. "We have had some really good wrestlers come through this program, and now Kai's name is at the top of that list, and he still has a half of a season left. It will be really difficult for anyone to ever surpass Kai."
Ben Reagan and Marcus Morrow joined Minucci in going 10-0 on the day, while Castaneda and Elliot Rogahn went 9-1. Adrian Coppage, Dylan Christman, Sean Allen and Jordan Boettcher each went 8-2.
Starters missing
"We were still missing three starters, Sean McDuffie and Carlton Ndon to illness and Zach Miller to injury," Morin said. "What I was most proud of was that this was a total team effort. Back-up wrestlers were willing to fill in wherever we needed them. Not only did they fill a hole, but they won 24 out of 35 matches for us. That was a huge lift for the team. Jacob Collison gave up 15 pounds wrestling up two weight classes for us and he never once complained. In fact, he was upset that I didn't use him more."
Minucci was named tournament MVP, scoring 59 out of a possible 60 team points with seven pins, two forfeits and a tech fall. Reagan finished with six pins, two forfeits, a major decision and a 6-0 decision, improving to 24-2 on the year. Morrow recorded five pins, a tech, two majors and a forfeit, as well as a 3-1 overtime decision, and ran his record to 17-0.
It was the first time Sean Allen had been available to compete in a tournament for Tosa this season, and he notched five pins and a major. Morin lauded the work by Adrian Coppage, Lorry Venturi, Josh Zembles and Jordan Boettcher, who won an 8-2 match over a tough wrestler from Bradley Tech with 6 points in the final period. Boettcher's father is athletics director at Tech.