Reagan, Minucci capture wrestling championships
Tosa finishes fourth at Woodland Conference Tourney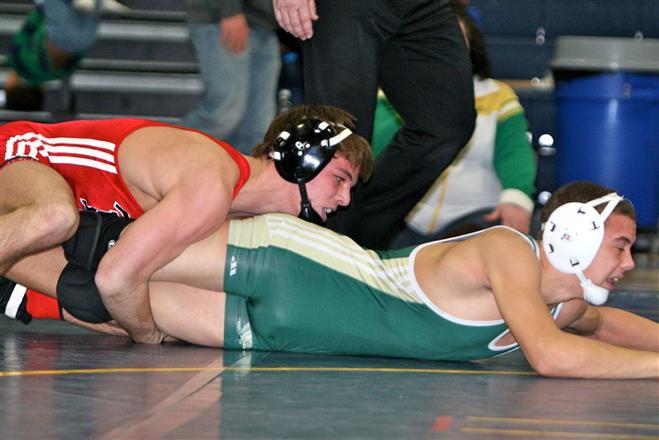 Ben Reagan and AJ Minucci won individual championships and Wauwatosa finished fourth of nine teams at the Woodland Conference Championships on Saturday at Pius XI.
"It was an interesting conference tournament," coach Kent Morin said. "I was thrilled to have five guys in the finals.
"We thought we would get the big four guys, Kai (Castaneda), AJ, Ben and Marcus (Morrow), but to also add Sean McDuffie was a nice accomplishment."
Reagan placed first at 138, scoring 26 team points. He pinned Logan Tabat of Greendale in 1 minute in his first match. In the semifinal he pinned Brandon Berg of Pewaukee in 56 seconds.
Finally in the championship match he pinned Tre'Vaughn Craig of Greenfield in 5:21.
"Ben dominated his weight class, never let any of his opponents even get anything going in any of his matches," Morin said. "He is extremely focused right now on getting to the state tournament and placing there. He is not letting anything get in his way."
Reagan improved his record to 35-2 as he repeated as conference champ.
Minucci won the 132 title (22 points), pinning Cameron Jakubowski of New Berlin in 1:03 in his first match.
He then won a 5-1 decision over Trevor Greene of Pewaukee in the semifinal. In the title match he won an 8-3 decision over Quinn Burzynski of Pius XI.
"AJ was in the toughest weight class in the tournament," Morin said. "In the finals he had Quinn Burzynski, who came into the match with a 35-1 record, and AJ wrestled his best match of the year by dominating him on his feet. He scored four takedowns to be in total control of the match from start to finish."
Minucci will see Burzynski at regionals and sectionals, so this was a big match to set the tone in their matchups.
Minucci is now 30-0 overall and he won his second conference title, having won it as a sophomore also.
Morrow (25-3) was second with 19 points at 152 pounds.
He pinned Joe Scaffidi of New Berlin in 1:36 in his first match and then won a major decision (12-2) over Tyler Dorfner of Greenfield in the semifinal.
"Marcus had a great semifinal match over Dorfner, who was a state qualifier last year," Morin said. "He just completely controlled him on his feet with four takedowns and a near fall to win."
But Jacob Raschka of Pewaukee pinned him in 5:09 in the championship match.
"In the finals, he just never got going against a really good wrestler," Morin said. "That is a match we will review but then just forget it."
Castaneda (31-6) scored 18 points and placed second at 120, losing a 3-1 decision to Thomas Welch of Greendale in the title match. After a bye, he beat Joe Porter of Pewaukee, 3-1, to get to the finals.
"Kai had a really nice match in the semifinals, taking down Porter in the first period and then just controlling the match from there," Morin said. "In the finals, he wrestled a good match against Welch, but just came up one takedown short."
Castaneda is a four-time conference finalist having won it twice as a sophomore and junior.
McDuffie scored 18 points and finished second at 113, getting pinned in 32 seconds by Brandon A'lessio of Cudahy/St. Francis in the finals.
He beat Victor Delao of South Milwaukee with a 5-3 decision in his match and pinned Brett Danner of Pewaukee in 3:28 in the semifinal.
"Sean was losing 5-3 at the time to Danner, but kept wrestling hard and created a scramble situation that he won with a defensive pin to advance to the finals," Morin said. "It is one of the things I love about Sean. He will always give us his best effort, no matter what the score or situation."
The following six wrestlers finished from fourth through sixth.
Sam Kratochvil at 220 placed fourth (10 points), Norberto Pliego at 195 and Lorry Venturi at 285 placed fifth (seven points) and Adrian Coppage at 106 (six points), Dylan Christman at 126 (five points) and Jordan Boettcher at 145 (four points) each placed sixth.
"As a team, we had hoped to finish higher but we just had three guys who didn't score any points for us and that can't happen if you want to finish near the top of this conference," Morin said. "This conference has become a lot more competitive this year.
"I expect as many as 18 wrestlers to qualify for the state tournament from this conference. That is a lot of qualifiers and indicative of how the level of competition has increased this year."
Wauwatosa next competes in the regional meet Saturday at Nicolet.
"We are off to regionals (at Nicolet) where we are the favorite going in," Morin said. "We need all of our guys to put their best effort forward on Saturday.
"If we do that, good things should happen."
Woodland Results
1. Pewaukee (219.5), 2. South Milwaukee (192), 3. Whitnall (152.5), 4. Wauwatosa (141), 5. Greenfield (135), 6. New Berlin (103), 7. Greendale (75.5), 8. Cudahy/St. Francis (71), 9. Pius XI (30)