Tosa West girls soccer team goes 1-1-1 in first week of season
Blanked Kenosha Bradford in opener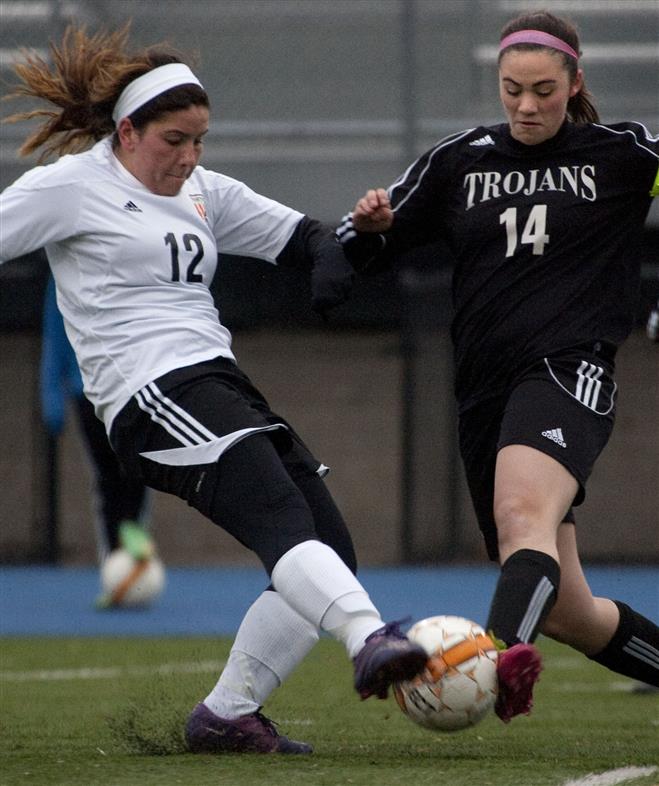 You win some, you lose some, and sometimes you tie.
That is how coach Ryan Bailey's Wauwatosa West girls soccer team began the season.
West opened by blanking Kenosha Bradford, 3-0, on the road April 1.
In the first 10 minutes, the Trojans came out in the first 10 minutes and established their tempo and style, which led to a goal by Kate Murphy off a pass from Alyssa Heyer.
West followed up with a second goal by Gaby Zabala, again off a pass from Alyssa Heyer and took a 2-0 lead to the half.
"I was very pleased with the initial 40 minutes but had an expectation that we needed to be better," Bailey said. "We came out of our halftime talk and played quick and fast but were unable to capitalize. This can be concerning as we should have killed the game off quickly.
"We began to take a little pressure, but we were able to finally get our third."
Sarah Henson made a great run from the midfield and scored from the top of the box for the 3-0 lead.
"All players were able to enter the match and execute our style and system," Bailey said. "I was very encouraged by how our first match went. It was a great debut match."
The Trojans were then edged by Whitefish Bay, 1-0, on April 3.
"I challenged our girls to stay organized and defend for 80 minutes as if it was a playoff game," Bailey said. "I knew that Bay would be a challenging matchup as (Bay coach) Robert (Williams) does a great job with them each year."
Gabby Verette stopped a penalty kick in the fifth minute to keep the game scoreless early, and the match stayed that way at half.
West was able to stay level and control the game for parts of the second half, but the Trojans were never able to break through despite a few 'juicy chances' according to Bailey.
Bay finally broke through on a corner kick, and West was unable to recover from it.
"I told the girls I was very proud of how they played," Bailey said. "And if they want to be special, they need to build on this effort. It was a loss but still encouraging."
Bailey felt the Trojans showed their fatigue with their third game in four days, tying Hartford Union, 2-2, on Friday at Bay.
"We did not generate the attack or tempo we desired," he said. "We went down 1-0 and 2-1 but were able to battle back each time."
Alex Heyer scored the first goal, and it was set up by a great individual play by Zabala. The tying goal came from Murphy, assisted by Henson.
Zabala created a 2 on 1 and Murphy was able to bang her goal into the far post.
"We did not show our best effort as we were disorganized, flat and created many gaps for Hartford to play into," Bailey said. "We had great chances to win but did not take advantage."
West, which played Brown Deer on Tuesday, is at New Berlin West Thursday, April 10.
The Trojans then face two tough Greater Metro Conference foes on the road — Brookfield East at 6:30 p.m. Friday, April 11, and Divine Savior Holy Angels at 4 p.m. Saturday, April 12, at Laura Moynihan Field at the University of Wisconsin-Milwaukee.