McLin leads talented young Trojans
Sophomore sprinter is a winner, on and off the track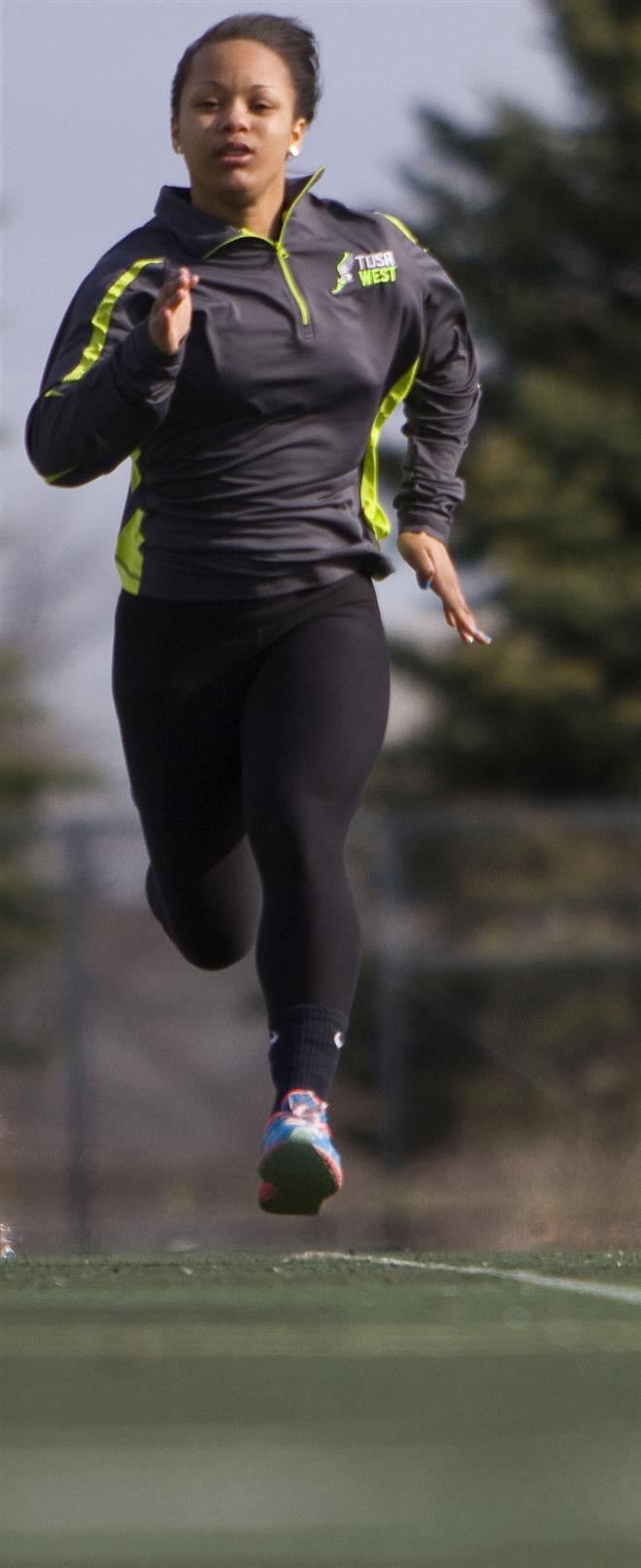 Wauwatosa West sophomore track star Azya McLin has been successful since the first race she ran.
"I was 10-years old, and I had a track unit in my gym class at Underwood Elementary," McLin recalled. "I set a record in the 40-yard dash and it still stands today.
"My teacher emailed my parents and said I should get involved in AAU track with the Mustangs Track Club — and I've been running with them since I was 10 years old. I owe a lot to coach Ray Hale. He got me ready for high school track."
Since track was new to McLin, it was her Mustangs teammates that sold her on the sport.
"I never saw myself running track because it was new to me," she said. "When I first joined the team, everyone welcomed me in. They made it really fun for me."
McLin credits the Mustangs' Dezerea Bryant, who went on to earn All-American honors at Clemson and then Kentucky, with helping her adjust to her new sport.
"I get a lot of inspiration from Dezerea Bryant, who took me under her wings on the Mustangs and still holds the state record in the 100 and 200," McLin said.
The versatile McLin competes in the 55-meter dash, the 100, 200 and 400 in the individual events. She also anchors the 4x100-meter and the 4x200 relay teams.
Brianna Jury and Jason Hood coach the events that McLin competes in.
"Both of us find it exciting and thrilling to work with someone with the raw talent that she has," Jury said. "Knowing that she is going to work hard if we can take her down that path. She is on the honor roll in multiple events. It's absolutely incredible."
Hood had an interesting perspective trying to improve such a talented athlete.
"It's a lot different to have someone that good and see potential in them; you don't want to mess it up," he laughed. "It's a lot more pressure on you as a coach, though.
"A lot of girls are 30-second runners and you make them 28-second runners. It makes you feel good. but when you have a 26-second runner and you want to make her 25 or 24, it's a little tougher."
McLin talked about her approach in an individual event.
"Put my music on and get focused for what I have to do," she said. "Before every event, I pray before I'm getting into my blocks. That's a big deal for me. Praying before each race. That's how I go about it.
"I have a goal for each race. I get a PR (personal record) time in head, and I want to achieve that."
Hood and Jury have to watch McLin closely; because of her high standards, sometimes she is too hard on herself.
"She may get frustrated, but she is willing to talk with us, listen to us," Jury said. "If she gets frustrated with a start, she wants to work on the blocks before the next one. She is hungry to do better on the next race. That's one of things that makes her excel."
McLin lights up when she is asked about running the relays and working with Cheri'A Adams, Sharia Brown, Sahnnon Wilson, Brianna Horton and Mercy Ndon.
"In relays we have to work together as a team," she said. "Love the bond I have with my team. We pray before we start and kiss the baton.
"You get these butterflies in your stomach. That's different from for your individual race. I focus in on myself in event race, but in relay, we work together."
McLin is counted on for leadership despite being only a sophomore. She says 'she learned a lot' from senior Elise Ditscheit with helping her develop.
"Being a leader is very important to me," she said. "Setting an example for others is very important. To have someone look up to me, I want to be a leader by example. At a track meet or at practice, I try and do the best I can do."
However, Hood and Jury would like her to take it to a different level.
"We want her to start being that vocal coach," Hood said. "Most of our team is sophomores or freshman. We have very few juniors, two seniors leading. We want her to take the mantle from them."
When asked what was the one thing that stood out about McLin, both Hood and Jury found it hard to pick 'only' one positive.
"From a technique point of view it's her 'starts,'" Hood said. "Her reaction time is amazing. Her first few steps are phenomenal. You can't win the race because of the start, but you can definitely lose it. She never loses a start. That's her biggest strength.
"Her non-technique strength — she hates to lose. When you have that, you have something special."
Jury agreed with Hood about McLin's technique, but also talked about her attitude.
"Her drive just to do her best. Her personal ambition. Just her hard work. That's what I've seen the last year and a half. And it extends to working with her team."
Head coach Jack LoPresti talked about how McLin has upgraded the springers with her talent and attitude.
"She brings a whole new level to our sprint corp," he said. "She is meticulous. At the indoor meet, a coach from another school contacted me with email and said 'It's not that you just won but the way you competed.'
"Azya helps the entire team. She has a lot of fun. She works hard in practice, but puts on her game face when it's time to work on track at the meet, and that carries through."
Jury issued a warning, however, because McLin has a target on her back.
"Ayza needs to make sure not to let her guard down," she said. "There are a lot of hungry people in the state that want to beat her. Within Milwaukee County, even people at this school who are talented as well and right on her heels. She has to continue to work the hardest."
LoPresti recently called her a 'flat-out superstar.'
"I felt very honored that he said that," McLin said. "But I feel like I'm not a superstar yet. I have a lot more to prove."