Defense shines in Wauwatosa's first victory
Spartans throw shoutout at Monona Warriors, 23-0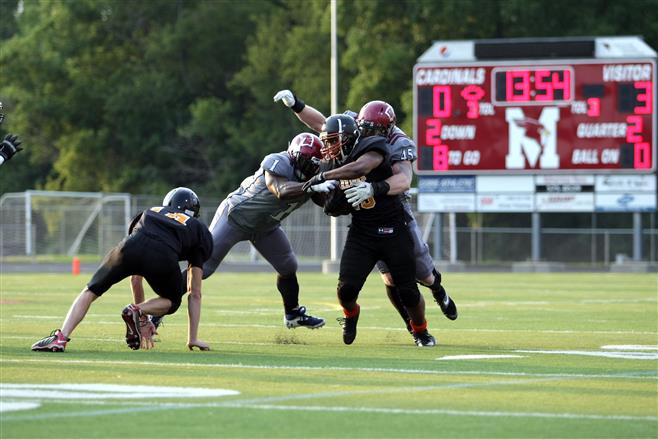 After seeing their season opener canceled because of inclement weather in the Quad Cities on July 12, the Spartans officially opened the 2014 season with a 23-0 win over the Monona Warriors at Middleton High School on July 19.
The Warriors lost their season opener last week, 30-13, to the Leyden Lions, and the last time the Spartans and Warriors met, the Spartans walked away with a 38-10 win. So there was reason to be confident, but without even a full half of football under the Spartans' belts, there was still plenty of rust to shake off after a long off-season.
Slow start
The first quarter was sloppy as both teams struggled to find any rhythm offensively, but the Spartans did manage three points on a Brian Newell 25-yard field goal in the middle of the first quarter.
They then added a touchdown later in the second quarter when quarterback Tony Henner found wide receiver Eric Kossorsis for a 15-yard score and a 10-0 lead at halftime.
"It was kind of rough out there offensively," said Spartan head coach Brandy Spoerl. "Monona played hard, and we were missing some key players on offense, which combined to cause problems for us in moving the ball."
The second half saw more sloppy football from both teams, but the Spartans were able to get on the board.
This time quarterback Jay Stolp found wide receiver JaJuan Zolicoffer for a 10-yard touchdown and a 17-0 lead. Later in the third period, the Spartans added a defensive touchdown when linebacker Kevin Morris picked up a Monona fumble on a sack and strip by defensive lineman Royal Ramseur and ran in from 40 yards out to make it 23-0; the extra point was blocked.
The Spartan defense set the tone and pitched a shutout, never really allowing Monona to threaten all night.
Big 'D'
Safety LaRon Ragsdale had three interceptions, and cornerback Winston Roberts added one. Defensive linemen Joe Flick, Ramseur and Joe Howard each had two sacks.
On offense, Henner threw for 42 yards with one touchdown and had an interception, and Stolp threw for 33 yards and one touchdown and one interception. Running back Jerome Walker had 47 yards rushing.
"Our defense played well and allowed our offense time to get going a little," Spoerl said. "We will need to rely on them to start the season as the offense takes shape."
Up next
The Spartans host the Lincoln-Way Patriots this Saturday, July 26, at Hart Park at 7 p.m. The Patriots started the season very strong with wins over the Chicago Thunder and Roscoe Rush. This will be the first ever meeting between the teams.