Wauwatosa Spartans of the Mid-States league beat Chicago Thunder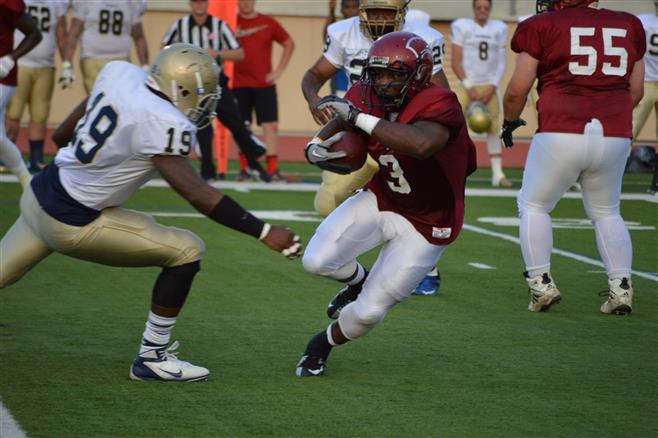 Wauwatosa's Mid-States Football League playoff hopes are still alive, but the Spartans are hanging on by their fingertips.
They couldn't afford to lose their game Aug. 16 at Hart Park against the Chicago Thunder, coming off three straight losses, two by one point and another to the undefeated Racine Raiders.
Another loss would have put a playoff berth in the tough Northern Conference in serious jeopardy.
The Thunder were hoping to steal a win and improve their own playoff chances in the Southern Conference, but a sloppy, defensive battle went the Spartans way, as they knocked out the Thunder, 12-8.
It didn't start well for the Spartans, as the Thunder took the opening drive and scored, making good on a two-point conversion to open with an 8-0 lead.
But the Spartans answered with a drive of their own when running back Bobby Windom ran in from five yards out, making it 8-6 after a failed two-point conversion. Those would be the only points scored until the final two minutes of the game, as the defenses took turns forcing punts and turnovers.
The Spartans got interceptions from defensive backs LaRon Ragsdale and Jamaal Napoleon, and one from linebacker Andre Williams, as well as a sack/fumble by defensive end Joe Flick.
"The defense did a great job tonight of keeping us in the game, and the offense was able to convert when we needed it," Spartan head coach Brandy Spoerl said. "When you can win with only 12 points, you know the defense played well."
The Spartans got offense when they needed it most.
With only 1:27 remaining in the game, quarterback Jay Stolp found tight end Joey Schutz for an 18-yard touchdown, giving the Spartans a 12-8 lead after another failed two-point conversion.
The Thunder got a good kick return, taking it all the way to the Spartans 25-yard line. But the Spartan defense held, and linebacker Andre Williams sealed the win with an interception on fourth down.
Stolp was 10-for-20 for 150 yards and a touchdown. Windom lead all rushers with 75 yards. JaJuan Zolicoffer led the receivers with four catches for 45 yards, with Schutz adding three catches for 40 yards and a touchdown.
"A win is a win in this league, so we'll take it and hopefully take advantage of our (two) bye weeks to get healthy and ready to make a push to the playoffs," Spoerl added. "We now have three weeks to rest and correct some issues on both sides of the ball."
The Spartans have a bye this week, followed by a leaguewide bye for Labor Day weekend. The team returns to action when they host the Racine Threat (5-0) on Saturday, Sept. 6 at Hart Park. Kickoff is at 7 p.m.