Trojans rule the city another year
Purifoy scores five touchdowns to lead West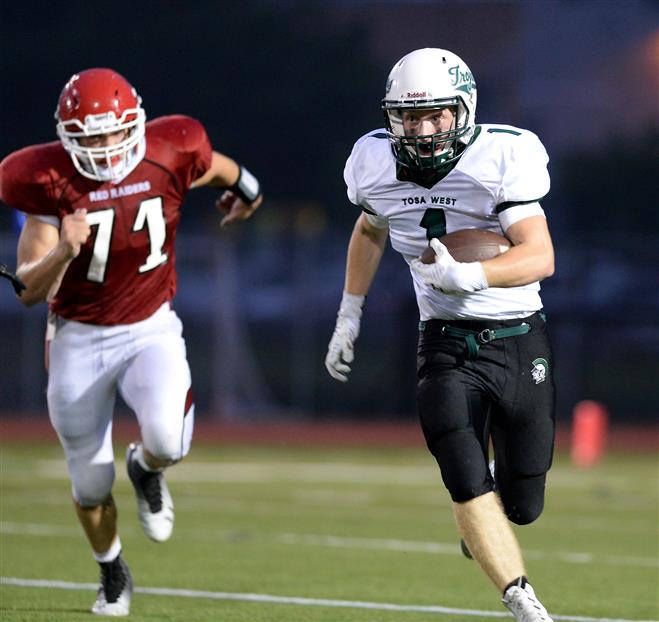 For the second year in a row, it was the Trojans from Wauwatosa West who ruled their city after beating Wauwatosa East, 42-7, on Aug. 22 at Hart Park in the season opener for both sides.
Senior running back Demaris Purifoy was particularly effective, scoring five times and racking up 152 yards to help the Trojans win easily.
Neither team produced particularly good offense on their respective opening possessions, but when the Red Raiders fumbled a Trojans punt, Matt Lundell was there to pounce on the loose ball and recover possession for West on the East 12-yard line. Truman Tyson ran the ball to the 1-yard line on the subsequent play, setting up Purifoy's touchdown run to open the scoring.
East couldn't get its offense rolling and turned the ball over on downs without getting a first down. The Trojans wasted little time adding to their lead and went up 13-0 on a 13-yard touchdown run from Paris Howell. Zach Veit added the extra point for a 14-0 lead.
"You lose the turnover battle and you lose the battle up front, you have no chance of winning, and that's what happened tonight," Tosa East coach Mike Richards said. "Tosa West is a good team, and we lost the battle at the line of scrimmage. We couldn't really get things going. Unfortunately we gave them two gifts at the beginning of the game; we were down a quick 14-0."
Drive stopped
The Raiders gained some momentum in the second quarter. After forcing the Trojans into a three-and-out possession, the Raiders began tearing the Trojans defense apart.
Ty Ederesinghe opened the drive with an 11-yard run, and East quarterback Jackson Telderer completed four passes to bring the Raiders down to the West 13-yard line. On fourth and one, the Raiders decided to go for it, but Telderer couldn't get the first down on a quarterback keeper, and the Raiders turned the ball over on downs.
"I was pretty upset at our offense," said Trojans coach Matt Good. "I think we had gotten three straight series of three and out, three and out, three and out, and we put our defense in a bad spot, and then our defense stepped up and made some plays and kept them out of the end zone. Our offense was able to come back and get it down the field for them."
The Trojans promptly marched down the field, and five plays later, Purifoy had scored a 40-yard touchdown run. The Trojans went into halftime leading, 21-0.
Momentum shift
"I think that was a big dagger," said Good, "especially after they didn't score that touchdown, we go right down the field. I think we ran the ball six or seven straight times, go right to the end zone. When you can do that, that's a momentum shift."
The start of the second half did not show signs of improvement for the Raiders. On their first possession, the Trojans took two plays to get to the Raiders' 40 yard line. Tyson ran 13 yards to set up a 27-yard touchdown run from Purifoy.
The Raiders did finally respond on their next possession, however. Apparently frustrated by the ineffective running game, the Raiders turned to the sky and completed three passes and drew two pass interference calls before Telderer completed a 7-yard touchdown pass to Cade McGown. That was to be the only scoring that the Raiders could muster, however.
"I thought our kids played well, especially defensively," Good said. "I think they really shut things down in the first half. Our offense struggled a little bit until we got a feel how they were playing us. They tried to pinch and take things away from Demaris, and we've got other players around him so they stepped up and did great."
Wore down
"I just think they kind of wore us down with their speed and their strength and their size," said Richards. "They weren't that much bigger than us, but they're that much stronger than us."
The Trojans finished off the game with two more touchdowns from Purifoy, who led the Trojans with 152 yards. Tyson rushed for 77 yards.
"You know, I just thought that the line blocked well, did a great job. It's a team effort, and when we all work together we can do what we want," Tyson said. "I'm looking forward to (the season) a lot; I think it's going to be a great one. We've got a great team this year, so expectations are high."
The Raiders will look to recover and prepare for a tough Greater Metro Conference schedule following next weekend's game against Aurora Catholic Central (Ill.), which was hastily scheduled because of Nicolet's recent announcement that it would not compete at the varsity level this season.
Bounce back
"We were able to get a game," said Richards. "They want to play and us, coaches, want them to play, too, so we're hoping to bounce back after this and hopefully get a victory next week.
"I suit up 32 kids in a ball game. We're going to keep competing; we're going to keep working hard, bounce back after this. We got thumped by West last year in the opener, we came back and won two conference games last year.
"But you know what? That's the past. We've got to look forward to the future, and we're going to keep trying. It doesn't get any easier after this. The GMC is to me one of the toughest if not the toughest conferences in the state of Wisconsin."
The Trojans will also look to improve and will have the added accomplishment of having won the Battle of Tosa for the second straight year.
"It means just that you're the kings of Tosa," Tyson said. "We've done it two years in a row. The year before, it didn't work out too well, but it's a good feeling."
"I just think we need to get better on a daily basis," said Good. "We have a really nice football team. We've got a deep football team with a lot of weapons on both sides of the ball; we've just got to get better every day and every week."