Imperiale takes over at Tosa West
Former Greendale, UWM star to coach girls basketball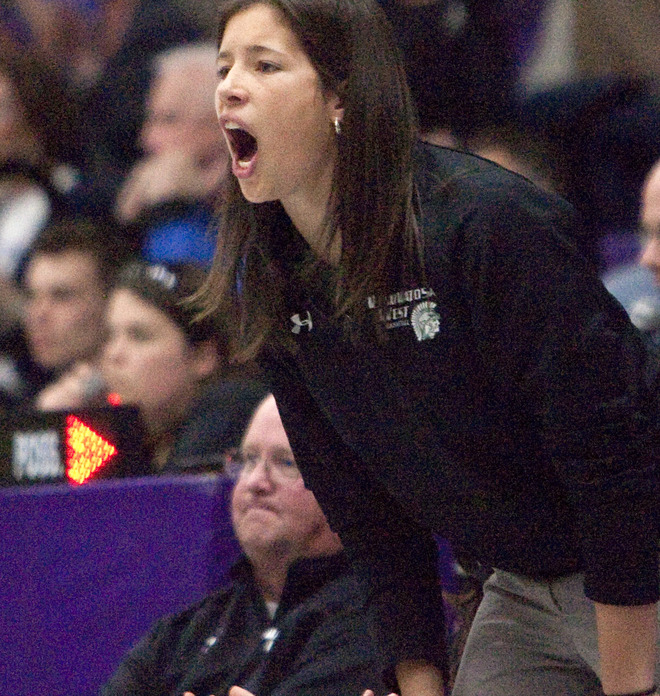 New Wauwatosa West girls basketball coach Ashley Imperiale was considered a co-coach last season with Ron Gavinski. So when Gavinski left in early October, Trojans athletic director Jeff Gabrielsen didn't have to go far to fill the position.
"Ashley Imperiale is a rising star in the coaching profession," Gabrielsen said. "Tosa West is extremely fortunate and very excited about coach Imperiale leading our girls basketball program into the future.
"Her work ethic and ability to relate to the kids is extraordinary and her knowledge of the game far exceeds her years in the profession."
Yes, the Trojans were lucky to get Imperiale because she was pursued over the summer for other coaching positions. But she wanted to make a name for herself at Wauwatosa West.
"I was excited," Imperiale said. "It's a little surreal when it does happen. (You think) this is really mine now. I have a lot more on my plate. It's here and I can actually move forward."
Gavinski mentored Imperiale last year, as she even did post-game interviews with the media. More importantly, she did most of the coaching in practice and since only one coach can stand up at games, Gavinski gave Imperiale that important responsibility.
"It was a unique situation and I am very grateful for it," Imperiale said. "He was a nice buffer. I had hands-on coaching and he did the administrative part and communicated with the parents."
Imperiale, who was an outstanding basketball player at Greendale High School (2003-07) and then later at the University of Wisconsin-Milwaukee (2008-11), was thrilled with the opportunity to take over a program that took a big step forward last season.
"I didn't anticipate it happening this fast," she said. "The opportunity arose, so I look forward to the challenges, and I hope to rise to the occasion and take the opportunity and run with it."
Imperiale admits that having been a player herself, it helps when dealing with her players - on and off the court.
"It certainly helps," she said. "I was very in touch with how I felt and thought as a player. I know what they are going through. It is easier to connect with them and make adjustments based off that.
"You have high moments, but you have to balance it out. I know what was motivating and what turns you off. I felt that connection was important in my approach."
Imperiale said having a year under her belt is a big advantage.
"It's huge coming into the season," Imperiale said. "One of the keys is that I know what the girls have done. I've seen them over the summer. I have had a chance to build a relationship with the new ones. It's full speed ahead."
The Trojans were 13-12 last year, 5-5 in the Woodland Conference following 8-17 and 3-7 records the year before.
Imperiale is currently a fifth-grade teacher at Washington Elementary School in the Wauwatosa School District.
THE IMPERIALE FILE
Greendale (2003-07)
Three-time conference champions (2005-07), Sectional Champions (2006-07), Three-time Woodland Conference Player of the Year, Three-time first-team all-conference, second-team all-conference, 2007 Journal Sentinel Athlete of the Year, (All-State tennis, All-State basketball, all-conference/suburban softball), 1,000+point scorer and Greendale's all-time leading scorer, first-team All-State (2007), second-team All-State (2006), Honorable Mention All-State (2005), NOW Newspapers All-Suburban Player of the Year (2007), NOW Newspapers first-team All-Suburban (2005-07).
UWM (2008-11)
Graduated Summa Cum Laude, Team Co-Captain (2009-2011), Athletic Director's Award (2010-2011), Horizon League All-Academic Team (2009-2011), Horizon League All-Tournament Team (2009), Horizon League All-Newcomer Team (2009).