Milwaukee/NARI Show OffersVariety of Admission Discounts and Prizes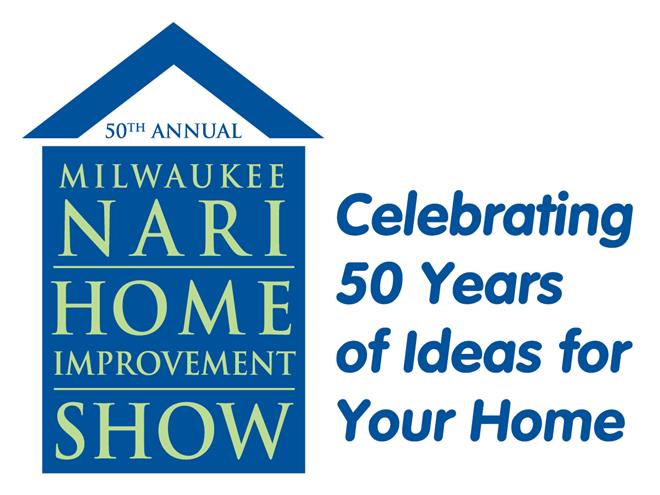 Discounted ticket prices and a variety of raffle prizes are just some of the incentives attracting visitors to the 50th annual Milwaukee/NARI Home Improvement Show at the Wisconsin Exposition Center at State Fair Park in West Allis Thurs., Feb. 9, through Sun., Feb. 12.

People over 60 will be admitted for $4.00, a $2 discount off the regular senior ticket price of $6.00, on Thursday, Feb. 9, for Senior Day sponsored by Callen Construction, Inc. A $2 off admission coupon good on up to four regularly priced adult tickets during each day of the Show is available at www.milwaukeenari.org and in the Milwaukee Journal Sentinel. Members of the YMCA in southeastern Wisconsin and the Milwaukee Art Museum can show their membership card and get a $2 discount off of a regular adult admission at the Wisconsin Exposition Center ticket office the days of the Show.

Consumers can register to win a free pair of Show tickets at www.milwaukeenari.org, plus children 12 and younger are free.
Advance regular adult admission tickets are available for $6.00 now through Wed., Feb. 8, at the Milwaukee/NARI office and other member locations. A complete list of advance ticket locations is available on the association's Website at www.milwaukeenari.org.

Two-for-one regular adult admission tickets will be sold between 5:00 p.m. – 7:00 p.m. on Saturday, February 11, at Wisconsin Exposition Center box office, with attendees getting two admissions for a total of $8.

For the 14th consecutive year, the Milwaukee/NARI Foundation, Inc., will conduct a raffle in conjunction with the Home Improvement Show. With a mission to increase public awareness of the home improvement industry, raffle proceeds are used to fund scholarships, purchase tools and equipment, and support educational programs to help encourage and train young people and displaced workers interested in the professional remodeling industry. The raffle prizes available are as follows:

• Sunroom Kit from Cabintek
• Planter Boxes from Community High School
• Two Adirondack Chair from Milwaukee Area Technical College – Downtown Campus
• Picnic Table from Milwaukee Area Technical College –South Campus
• Adirondack Chair from Racine Case High School
• Planter Boxes and Wooden Bench from Waukesha County Technical College
• $1,000.00 gift certificate for a Carrier product and installation by 1st Choice Heating & Cooling
• $400 Frontier Airlines Gift Card
• $500 Gift Certificate from Kohler Co.
• Wood Entry Door and Installation from Milwaukee Millwork and KS Remodelers
• $500 Gift Certificate from Bliffert Lumber
• 42" TV from ABC Audio Video

Raffle tickets will be sold in the Milwaukee/NARI Information Center in the center of the Show floor at one for $5.00, three for $10.00, and eight for $20.00. The winning tickets will be drawn at 4:00 p.m. on Sun., Feb. 12, on the Cooking Demonstration Stage. One need not be present to win.

Cosponsored by the Milwaukee/NARI Home Improvement Council, Inc., and the Milwaukee Journal Sentinel, the 2012 Show will provide Milwaukee/NARI, celebrating 50 year's as the area's leading home improvement and remodeling industry resource, with the opportunity to have its members demonstrate for consumers "Celebrating 50 Years of Ideas for Your Home," the theme for the Show.

More than 700 booth spaces covering the entire exposition center will feature providers of thousands of home improvement products and services, including kitchens, decks, cabinets, windows, bathrooms, siding, lighting, landscaping, media rooms, wall covering, rec rooms, roofing, fireplaces, and more.

During the Show, educational demonstrations and seminars by home improvement experts and media celebrities will be held, including presentations on the Renewal by Andersen Seminar Demonstration Stage by Doug Wilson of TLC's "Trading Spaces," Melinda Myers, Gus Gnorski, Lis Friemoth, "The Garden Hoe", and Tom Feiza, Mr. Fix-It. The Wisconsin Granite Depot Cooking Demonstration Stage will feature area chefs and national cooking celebrities, including Mad Dog & Merrill and Jyll Everman, Food Network Star Contestant.

In addition, the Show's Outdoor Living Area will feature a Northwood's theme comprised of a variety of landscaping and hardscaping surrounding a log cabin by Cabintek. There will also be special attractions, including an Interior Design Room Display contest between area college students presented by Benjamin Moore Paints and Pekel Construction & Remodeling, the Schlossmann's Automotive Group vehicle display, the Kohl's Color Wheel Mobile Arts Display, the Milwaukee/NARI Foundation fundraising raffle, with a grand prize of a Sunroom Kit from Cabintek, complimentary wine sampling, daily live music, a caricature artist, and manufacturer displays.

Hours on Thurs., Feb. 9, Fri., Feb. 10, and Sat., Feb. 11, are 10 a.m. – 8 p.m.; and 10 a.m. – 5 p.m. on Sun., Feb. 12. Admission is $6 in advance, and $8 at the door. Tickets for seniors 60 and older are $6, with a special price of $4.00 at the door on Thurs., Feb. 9, for Senior Day presented by Callen Construction. Children 12 and younger and all military personnel with a military ID card will be admitted free.

For more information, visit www.milwaukeenari.org or call 414-771-4071.