Nearly 500 Inches of Hair to be Chopped for a Good Cause: DSHA students donate hair to Locks of Love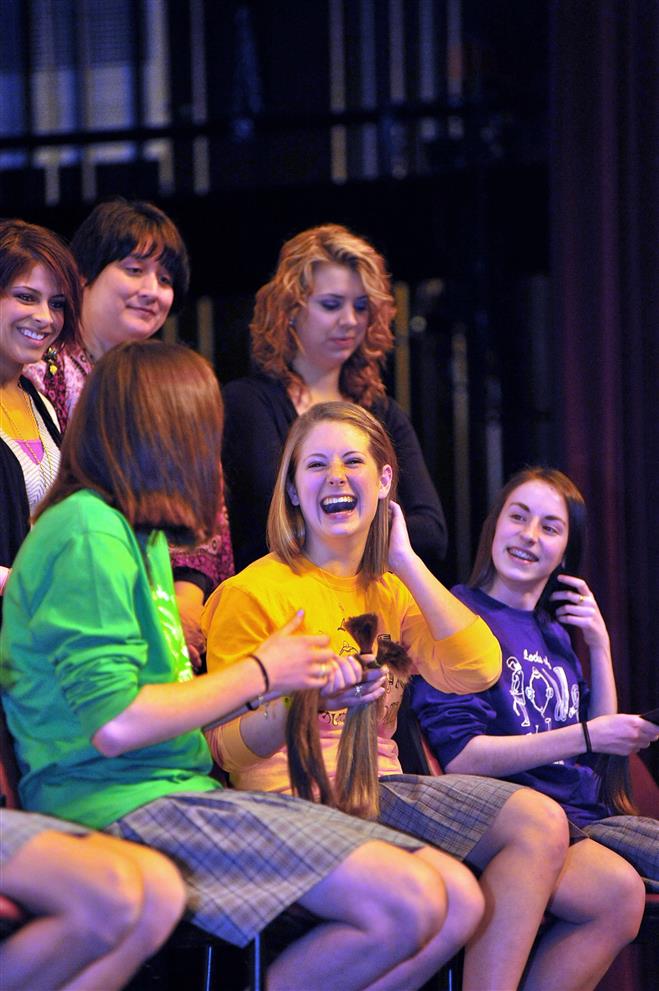 On Monday, January 30, 2012, 48 Divine Savior Holy Angels High School (DSHA), students will put vanity aside and take part in a selfless gesture—cutting off 10 inches or more of hair and donating it to the non-profit organization Locks of Love.
Locks of Love provides hairpieces to children suffering long-term medical hair loss from any diagnosis, however, most have lost their hair due to a medical condition called alopecia areata, which has no known cause or cure. DSHA students have donated to Locks of Love for twelve-consecutive years. Students will also have an opportunity to hear from someone whom their generous act of kindness affects. Ten-year old Kiah Lang, who suffers from alopecia, will speak to the students before the cutting ceremony. The event, organized by DSHA campus ministry, will take place at 10 a.m. in The Robert and Marie Hansen Family Fine Arts Theatre at DSHA.
This year, hair will be split between Locks of Love and Pantene Beautiful Lengths. Pantene's Beautiful Lengths program was created in partnership with the American Cancer Society® to encourage Americans to grow, cut and donate their healthy hair to create wigs for women who have lost their hair due to cancer treatment. Current student coordinators Lissa deGuzman of Wauwatosa, Meredith Heneghan of Cedarburg and Alyssa Jacobsen of Oconomowoc are leading the donation effort on behalf of the student body. According to Meredith Heneghan, "I am excited about the transition and splitting the donations…we're excited to spread the love! Hair donation is a meaningful and strong mark of character and selflessness. Personally, I am quite excited to cut my hair—dramatic hair changes are the best!"
Over the past 12 years, DSHA has contributed 670 ponytails, valued at nearly $416,500. The total value of donated hair for this year's event is nearly $28,500.
Studio 890 Salon of Elm Grove, Wis. will be celebrating its eleventh-consecutive year of donating their salon services to the event.
Divine Savior Holy Angels High School is a Catholic college preparatory high school that excels at preparing young women intellectually, spiritually and personally. Sponsored by the Sisters of the Divine Savior, DSHA continues to build on 119 years of tradition in academic excellence and commitment to single gender education and attracts over 650 students annually from all over Southeastern Wisconsin. To learn more about DSHA, log on to www.dsha.info.