When the Weather Outside is Frightful, Jump Aboard the Jingle Bus!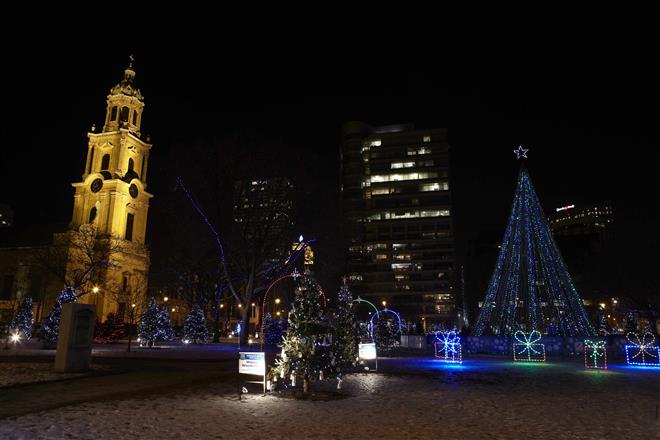 Don't let Jack Frost freeze you out from winter fun. Hop aboard downtown Milwaukee's Jingle Bus – a comfortable Coach USA bus. For just $1 per person, the guided 40-minute tour takes holiday-enthusiasts past downtown's most magical and decorative sights.

Milwaukee Downtown's Public Service Ambassadors will take the reins and point out key downtown landmarks, as well as the Festival's three decorated parks – "Community Spirit Park" at Cathedral Square Park presented by Madison Medical Affiliates and Columbia St. Mary's, "Santa's Toyland" at Pere Marquette Park presented by Zilber Property Group and "Playful Penguins" at Zeidler Union Square presented by We Energies. As you ride merrily along, check out the newly installed glamorous chandeliers in place above 17 Wisconsin Avenue intersections from 10th St. to Prospect Ave. and Mason St.

To join in the fun, head to the new Warming House location in the Center Court of The Shops of Grand Avenue as you await your Christmas chariot. Operating Thursdays through Sundays, now until Dec. 30, catch a ride any time from 6 p.m. to 9 p.m., the last tour leaves at 8:20 p.m. Tours fill quickly, so arrive early to secure your seat!

While you're there, enjoy some free cocoa, sponsored by Wild Flour Bakery, and cookies, sponsored by Impark, as you gear up for your adventure through the city. With an 18-piece animatronic symphony orchestra of bears and new holiday shops, the new Warming House offers entertainment of all sorts.

Bundle up the kids and head downtown for the Milwaukee Holiday Lights Festival Jingle Bus. Park in The Shops of Grand Avenue garage for a discounted rate of $3. Just present your Jingle Bus ticket stub when you leave.

For more information on the Jingle Bus and the new Warming House, visit www.milwaukeeholidaylights.com.