Milwaukee/NARI Foundation Announces Fiscal 2014 Officers and Directors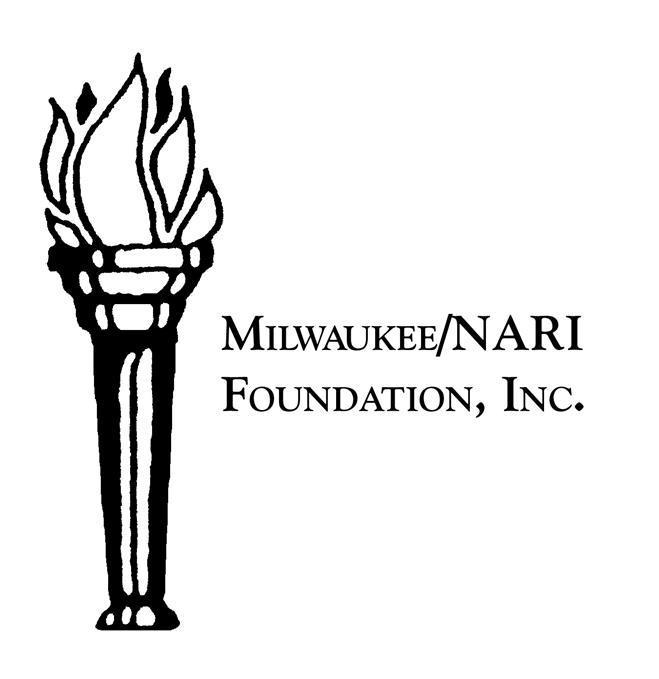 The Milwaukee/NARI Foundation, Inc., the educational and charitable arm of the Milwaukee/NARI Home Improvement Council, Inc., announced the election of the following officers for fiscal 2014 (July 1, 2013 – June 30, 2014):

Executive Officers
President: Greg Adamec, Milwaukee Millwork, Milwaukee, Wis.
Senior Vice President: Tom Callen, Callen Construction, Inc., Muskego, Wis.
Vice President: Chris Klug, ABC Audio Video, LLC, Elm Grove, Wis.
Treasurer: Mike Reuteman, Harris Bank, Cedarburg, Wis.
Secretary: Dave Amoroso, Ron Sonntag Public Relations, Inc., Milwaukee, Wis.

The following individuals were elected to three year terms (July 1, 2013 – June 30, 2016) to serve on the Foundation's board of directors:

David Feldner, CAE, Milwaukee/NARI Home Improvement Council, Inc., Wauwatosa, Wis.
Mary Lee Hannan, MLH Consulting, LLC, Brookfield, Wis.
Greg Kotsonis, Crivello Carlson, s.c., Milwaukee, Wis.
Keith Marquardt, Kensington Liquor, Shorewood, Wis.
Ken Skowronski, CR, KS Remodelers, Inc., Franklin, Wis.

In addition, Brian Dombrowicki of Ferguson Enterprises, Inc., in West Allis, was elected to fill the balance of Chris Klug's board position that will expire June 30, 2014.

The goal of the Milwaukee/NARI Foundation is to promote public awareness of the home remodeling and improvement industry through educational programs and community activities and raise funds to support scholarships and grants to help encourage and train young people and displaced workers interested in the professional remodeling industry.

To carry out its purpose, the Foundation expends funds for the refinement and/or expansion of existing Milwaukee/NARI education programs, supports scholarships to assist professional training of individuals entering the home improvement and remodeling field, and embarks on activities judged necessary to insure an ample supply of professionally trained individuals.

Through various special events, including the annual Home Improvement Show raffle, Rummage Sale, Golf Outing, and Holiday Party, plus member contributions, the Foundation has provided more than $150,000 in scholarships, tools, and equipment for use by students and schools in southeastern Wisconsin. The Foundation has also established endowments at both Milwaukee Area Technical College and Waukesha County Technical College.

More information is available at www.milwaukeenarifoundation.org.