Slam Dunk Basketball Camp for kids with diabetes coming to West Allis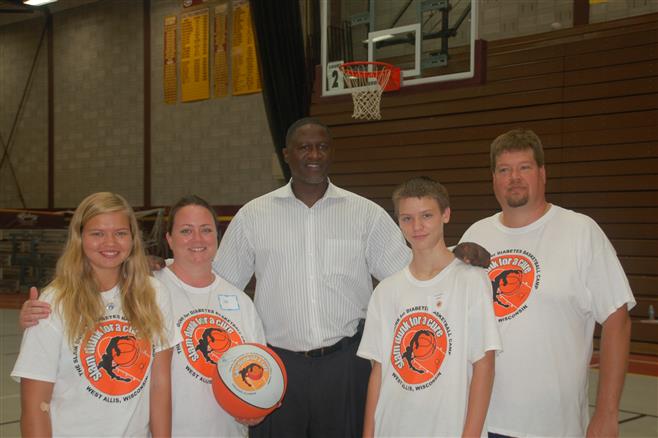 Slam Dunk Basketball camp for kids with diabetes will again be hosting a camp here in West Allis! This is a free basketball camp for kids with Type 1 or 2 diabetes ages 5-18. The camp will run from 9 am to noon July 23rd-25th at West Allis Central High School. The Moses E. Cheeks basketball camp is a place where children and teens gain confidence in managing their diabetes. Campers learn how food and exercise are linked with insulin and how sports, illness and stress interact with diabetes. Participants learn that diabetes doesn't have to prevent them from living active, satisfying lives.
So you may be wondering how is this camp run? First each child has a medical form filled out by their endocrinologist for the camp staff. The camp will have 5-8 diabetic educators, nurses, dietitians, or physicians assistants who will assist each child with taking their blood sugar before, during and after the camp. There are medical staff, snacks, water and juice to help with the high or low blood sugars. The camp also has basketball coaches from around the area, some who have played at the college level. They run drills and games while medical staff are also watching the kids for possible lows. There are periodic rest periods where the kids will go to test. This is where the education comes in, when they are testing. Is there sugar high or low? How do you get your blood sugars back up and keep them up. How do you prevent the lows from happening at all? There are also educational opportunities for the parents while the kids are on the court.
More importantly the kids get to also meet other kids living with diabetes. This is often a lonely disease and they may be the only child in their school living with diabetes. This is not a sit down and lecture camp, this is a get out and have fun playing basketball. Kids learn best by doing and no one child reacts the exact same way with exercise. This camp provides a safe, fun way for the kids to play hard and learn how to manage their diabetes.
The camp was founded in 2004 by Monica Joyce in Chicago, IL. There were 4 camps throughout the state of Illinois and in 2012 we had our first camp here in Wisconsin. I worked to get this camp here after my family had such a positive experience at the camp in Rockford Ill. My son Jack was diagnose in 2011 with Type 1 diabetes. While he quickly learned to manage his diabetes, we struggled with sports and especially basketball. He was consistently going dangerously low during games. Unfortunately if your blood goes low you have to follow a 15/15 rule. You take 15 grams of sugar, wait 15 minutes and hope it goes to within normal range. Well, if you miss 15 minutes of a basketball game at that age you just missed half the game. Frustrated, I went online and that's when I found Slam Dunk. He went to the camp the summer of 2012. It was so much fun! He met other kids his age with diabetes and more importantly we learned tips and tricks to keep his blood sugar up. That 2012 basketball season he did not miss a single minute due to a low! I knew we had to get this camp here. Thankfully with the help from the Slam Dunk camp in Chicago, staff from Childrens Hospital, volunteer nurses from West Allis West Milwaukee School district and a grant from Novo Nordisk we were able to bring the camp to West Allis. We had a great time with just over 40 kids in attendance. We had a visit from Bango from the Milwaukee Bucks and Dominique Wilkins!! I am very excited we are able to once again bring this free camp here to West Allis and I am hoping we get over 100 campers this year! You can download the camp application and medical form at slamdunkkids.net! Even if your child doesn't know how to play basketball, they will have fun at this camp!!