Netzow's Pianos of Wauwatosa to Offer Sneak Peek of New 'Elton John - Million Dollar Piano' Movie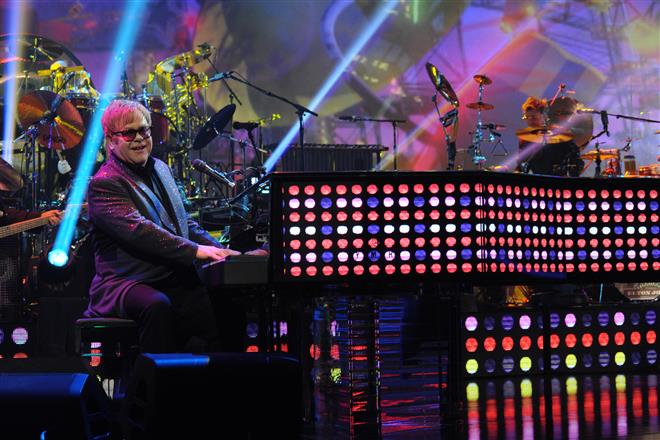 WAUWATOSA, Wis.—If you missed Elton John's spectacular Million Dollar Piano revue at the Colosseum in Las Vegas, now's your chance to see it in Wauwatosa.

Elton John-The Million Dollar Piano—the movie—is debuting and will play for two days only—March 18 and March 26.

Wauwatosa piano retailer Netzow's Pianos, is inviting area Elton fans to an exclusive free screening of a 20-minute, behind-the-scenes look at the making of the film and the piano, during a special wine and cheese night March 21 at 6 p.m.

As a special bonus, fans will also be treated to a 35-minute segment from Yamaha's 125th Anniversary Dealer Concert—an event held at Disneyland's Hyperion Theater in Anaheim, California that featured Sir Elton performing on the Yamaha Disklavier with a 60-piece orchestra.

Thanks to the Yamaha Disklavier and RemoteLive technology, guests will be able to experience an interactive Elton John concert like never before. As Elton's Yamaha 125th Anniversary concert is played, this revolutionary technology allows his exact keystrokes and pedal movements to be reproduced in perfect synchronization with the video stream.

Elton John has wowed audiences with his lavish Million Dollar Piano revue at Caesars Palace in Las Vegas, a persistent sellout event since its debut September 2011. This new movie brilliantly captures the spectacular concert experience and includes all of Elton's greatest hits, including "Rocket Man," "Tiny Dancer," "Saturday Night's Alright for Fighting," "I'm Still Standing," "Goodbye Yellow Brick Road," "Crocodile Rock," and "Your Song."

The centerpiece of the performance is the show's namesake "Million Dollar Piano," a one-of-a-kind engineering marvel. The state-of-the-art instrument was a collaboration between Sir Elton and Yamaha Entertainment Group of America, and features more than 68 LED video screens that display mesmerizing imagery to complement each of the show's iconic songs.

Seating for this exclusive sneak peek at Netzow's Pianos is limited. Call now for reservations: (414) 476-9985.

Netzow's Pianos is located at 8837 W. North Ave., Wauwatosa.