Free Drum Clinic with The Common Thread Clinic Tour, Tuesday, April 22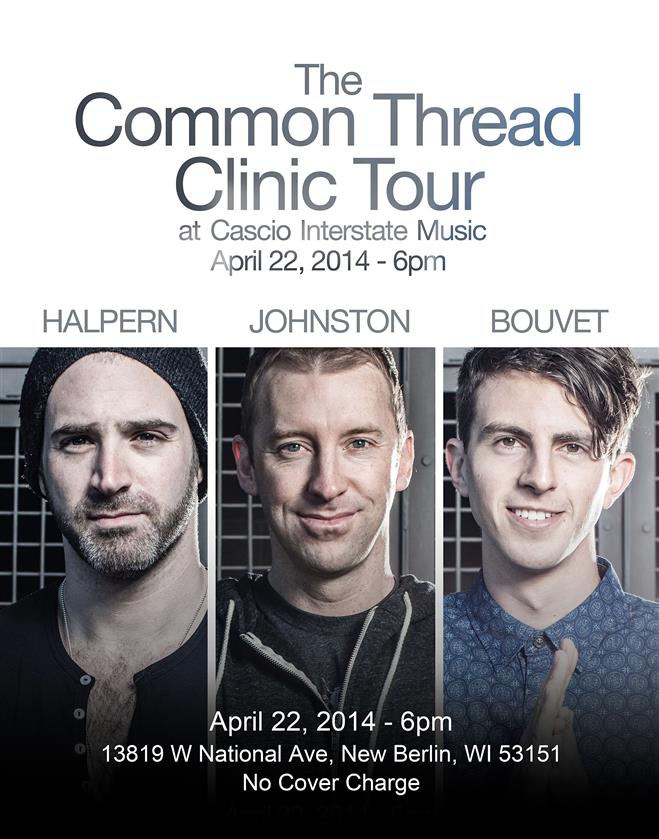 Cascio Interstate Music SuperStore, 13819 W. National Ave. in New Berlin, presents a free drum clinic, The Common Thread Clinic Tour, on Tuesday, April 22, at 6:00 pm. This clinic is comprised of drummers Matt Halpern (Periphery), Mike Johnston (Mikeslessons.com), and JP Bouvet (Guitar Center Drum Off Winner and Roland V-Drums Competition). Mapex Cymbals is proud to sponsor this clinic, and Mapex products will be featured and on sale.

The goal of The Common Thread Clinic Tour is to inspire musicians of all ages and skill levels to believe in themselves, realize what they are capable of, and work passionately and fearlessly toward their dreams.

Matt Halpern, a Baltimore native, started playing the drums at the young age of 3. By middle school Matt was performing locally and by high school he was performing throughout the Northeast region of the US weekly. After college Matt toured extensively with a couple bands and eventually joined up with instrumental group, Animals as Leaders. After performing with the group in 2009, Matt had the opportunity to join progressive metal band Periphery, and he's been with them ever since.

Performing and touring all over the world, Matt and Periphery have shared the stage with bands such as Dream Theater, Gojira, Lamb of God, the Dillinger Escape Plan, August Burns Red, Arch Enemy and many more. Matt is highly regarded as a very active drum instructor and participant in the expansion of music education. In 2008, Matt founded Bandhappy - the only online market place for live music lessons from musicians from all over the world. In 2013 Matt was the winner of "Best Metal Drummer" in Modern Drummer Readers Poll 2013, and Runner Up for "Best Clinician/Educator" in the same poll. Read more at http://mapexdrums.com/us/artists/matt-halpern/ and https://www.presskit.to/matthalpern#.

Mike Johnston currently runs the educational website, Mikeslessons.com, where he offers live and pre-recorded drum lessons for beginner, intermediate and advanced players. He began studying the drums at the age of 5. He spent the next 15 years studying privately with Pete Magadini, Steve Ferrone, and Steve Smith. At the age of 21 he received his first major label record deal with his band Simon Says and spent the next 5 years touring the world. He received a gold record for his contributions to the Varsity Blues soundtrack and has appeared on the Late Show with David Letterman as well as on MTV's Fashionably Loud. Mike has also toured with Warner Bothers Recording artists
Filter.

Vater manufacture Johnston's signature drumstick, named the "2451", which is made in both maple and hickory woods http://www.interstatemusic.com/search/vater%2520mike%2520johnston.aspx Read more at http://www.mikeslessons.com/.

JP (Jean-Pierre) Bouvet is the drummer of Helicopria, Dave Mackay Group, and "Drew and JP." From his home in New York City, alongside these groups and frequent sessions, he is consistently and passionately uploading new content to his website, JPBouvetMusic.com. JPBouvetMusic.com is a hub for inspiration and education, filled with interactive video and written content to inspire, teach drums, and bring his students and fans along with him as his career continues to unfold. The website is a place for drummers around the world to learn and share.

After studying at Berklee College of Music for two years, JP made his initial entrance into the public eye in 2012 when he won the Guitar Center Drum Off and Roland National V-Drums Competition. Of active touring drummers, JP is one of the more busy educators on the scene, known for setting up lessons, clinics, and discussions whenever possible during his frequent travels around the world. JP was raised in suburban Minneapolis, Minnesota. Read more at http://www.jpbouvetmusic.com/.

Interact on Facebook with Wisconsin's largest music store, Cascio Interstate Music SuperStore, at https://www.facebook.com/Cascio.Superstore and the Common Thread Clinic
Tour at https://www.facebook.com/commonthreadclinictour.