Area senior citizens put on murder mystery stage production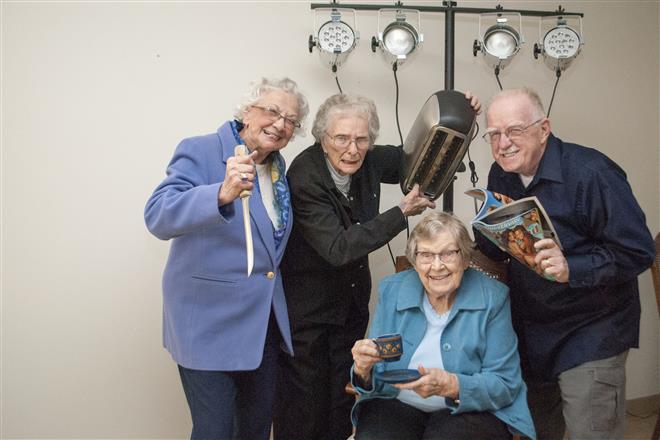 A murderous yarn will soon be unraveling in the Luther Manor Senior Living community where the Terrace Community Players are preparing to debut an original stage play called "Clueless: Even We Don't Know Who Done It."

"Clueless" is the fourth original play performed by Terrace residents in three years. Two of the four productions were in collaboration with Unity in Theater, a Milwaukee-based youth theatre company. A third, "The Witty, the Weathered, and the Wise," was a radio-format stage play that debuted in the winter of 2013. It was the first production written and produced exclusively by Terrace residents, who adopted the moniker, the Terrace Community Players.

The script for the play was co-written by Terrace residents Rusty Tym, Joyce Heinrich, and MaryAnn Abrahamson. Each resident wrote one act of the play.

"The premise of the play is that there are these three washed up writers trying to outdo each other in creating the perfect murder story," Tym said.

"Who's washed up? They are retired writers," said Abrahamson, who, along with Tym and Heinrich, will be taking on the roles of the three writers in the play.

The intended-victim at the center of the perfect murder mystery is a mean fellow by the name of Vartan Jackovich. Vartan's days are numbered, that's for certain. But who done it, and how, changes as the writers' game of one-upmanship progresses.

"In each act, there are different suspects and motives and the crime is committed using different weapons," Abrahasom said.

But will the writers come up with a murder that is so perfect, even they won't know "who done it?" At the end of the play, the audience will have a chance to weigh in, but only the detective will know who is right.

"It's just a fun play," said Tym.

Show times for "Clueless: Even We Don't Know Who Done It," are 7 p.m. on Friday, May 16 and 3 p.m. on Saturday, May 17. Admission is freewill offering. Seating is first come, first served. Doors open 30 minutes before each performance.