Wauwatosa Business Spotlight: Bridgetown Framing Gallery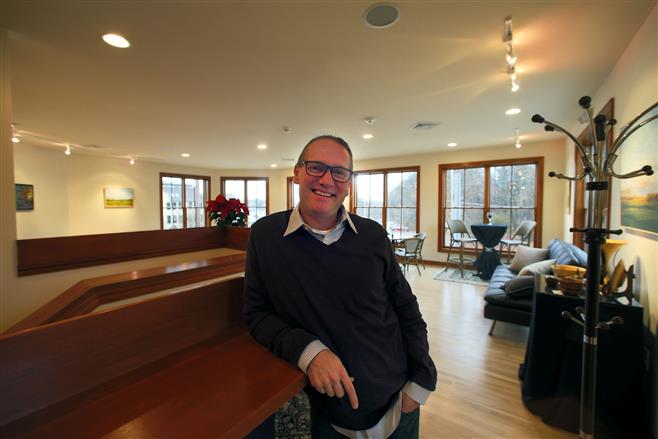 After helping to launch, before, later, leaving a little publication called The Onion, Peter Haise got out of business.
"I was in family mode," explained Haise, who co-founded "America's Finest News Source" and opened several sandwich shops before becoming settling into life as a stay-at-home dad.
Haise stayed home with the kids, now 4 and 7, partly so his wife, Susan, could focus on her business, the spa-turned-regional-franchise Neroli Salon & Spa.
But, Haise said, "I'm an active guy. I'm a competitive guy. I really like business. I really like adventure. I really like new things."
So, he started looking at properties. And he found one, just over the railroad tracks, south of State Street, on Harwood Avenue.
"We always thought it would make a neat little restaurant," Haise said.
Then, Haise said, "Right across the street popped up Café Hollander — a restaurant."
Not quite sure what to do with the space, Haise rented it out. By the time the tenant moved out, he had a Plan B.
"I had a good friend in the framing business, and I apprenticed with him," said Haise, who opened Bridgetowne Framing Gallery in 2010. "I thought, 'This is civilized. It's creative. It's fun. It's crafty. It's people-oriented, which kind of fits strangely and oddly with publishing, (where) you're laying out pages and playing with space. It's quite similar."
So, he opened a custom framing shop. Earlier this year, he added a second floor gallery and bar.
"I've got the only bar in Milwaukee that's never open," Haise joked. For now, the bar is available primarily for birthday parties, baby showers, the occasional class reunion.
But if someone stopped by the gallery, which is open to the public, and, say, needed a drink, Haise said, "We'd certainly jump behind the bar and pour you a glass of wine."
It's not exactly a typical business model. But, after the 15-year roller coaster ride that was The Onion, Haise said he's happy to take it slow.
"I went through chaos running what was an exciting and adventurous kind of afterschool club that became this huge phenomenon nationally," said Haise, who has a staff of seven.
"We don't do a whole lot too fast," he said, "but we will definitely start being open for happy hours. And we've got plans to find a food truck and do a Food Truck Friday, get some wine pairings and beer pairings with the farmers market. It's a real thrill."
JUST THE FACTS
BUSINESS: Bridgetowne Framing Gallery, 7734 Harwood Ave.
WEB: www.bridgetowne.com
PHONE: (414) 771-6603
OWNER: Peter Haise
INCORPORATED: 2010
TYPE OF BUSINESS: frame shop, art gallery and bar
PEARLS OF WISDOM: "Be part of the community. Stand out in your own neighborhood. That's what we're trying to do."