Wauwatosa West assistant principal, shot in '93, remembered in son's book
To move forward, Jay Breitlow says he had to learn to have love for his father's shooter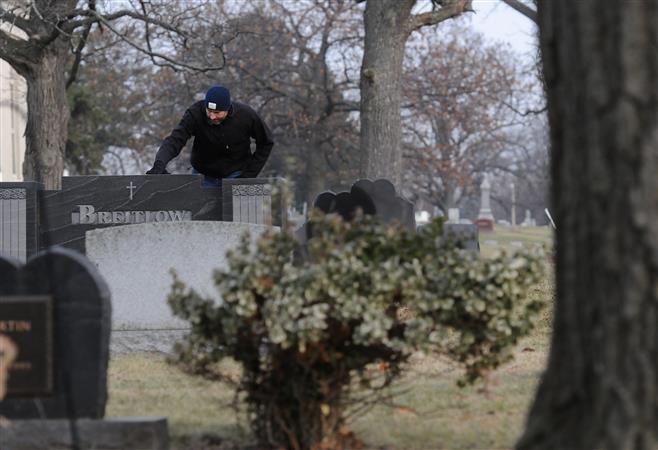 In the moments before his father was shot on Dec. 1, 1993, Jay Breitlow had a bad feeling. Sitting in class, a freshman at Wauwatosa West High School, he had a thought: There's something wrong with my father.
A couple minutes later, Breitlow said, he saw an ambulance outside the window. There was an announcement on the intercom, a knock at the door. Breitlow was taken to a guidance counselor who told him his father, the high school's associate principal, had been shot.
Twenty-one years later, Dec. 5, Breitlow returned to his father's gravestone at Wauwatosa Cemetery missing him just as much as the day his father died, but with a new perspective. Now a Colorado resident, he was on his way to Green Bay to promote his new book about the experience of losing his father and what he thinks should be done to prevent future tragedies.
In "Love, Not Guns: A Case For Changing the Focus of America's Gun Debate," published in November, Breitlow details his journey to find positive outcomes from the loss of his father to not only help himself heal, but to encourage systemic change to stop gun violence. Breitlow re-imagines the traditional debate over gun ownership, arguing instead for both sides to find common ground in making safer communities by nurturing youth and steering them into healthier lives.
"I can't identify with either side, or even be in the middle of the conversation with guns because that is not a conversation that ultimately provides answers," Breitlow writes. "The better question is: how do we solve violence in America? And that answer is with love."
To love Leonard McDowell
Coming to this conclusion was not easy, Breitlow said, as he felt he needed to find love for his father's shooter, Leonard McDowell.
"If I truly believe in this message, then I have to love Leonard McDowell for who he his," Breitlow said. "And if I cannot find the love in my heart for him, then I'm just a hypocrite."
McDowell, 21 at the time of the shooting, had been a student at Wauwatosa West. According to witness accounts, McDowell met Dale Breitlow in a hallway at the school and shot him three times, the Milwaukee Sentinel reported. After the shooting, police found McDowell hiding in shrubbery outside his house. Inside, they found notes indicating he had been planning the attack, the Sentinel reported.
In his efforts to understand McDowell's actions, Jay Breitlow said he sent a letter to him in prison, which is published in the book.
"I'm not mad at you," Breitlow said he wrote. "I just want to know, because I want to help people, what's going on in your life and what your thought process is."
Breitlow said McDowell's return letter seemed schizophrenic. In court, medical experts said McDowell had several mental health issues, including paranoid schizophrenia, personality disorder, and Tourette's syndrome.
"He seemed grateful for me writing and asked not to write again," Breitlow said.
Breitlow said he was glad they had the exchange.
"I think if I saw him walking down the street, he wouldn't harm me," Breitlow said. "And I wouldn't harm him either, which at one point would have been hard to say."
Finding positive outcome
Another part of Breitlow's healing process was a challenge from a mentor to find 50 positive things that came out of his father's death.
"I said I'll write 150," Breitlow said, giving the examples of a strong relationship with his mother, and his friend's dad's offer to pay for his education. "I would trade all 150 to have my father back. But he would say, don't grieve over me. Be an impetus for change."
Breitlow said he wants to provide a different point of view to the traditional talking heads in debates after school shootings.
"My vision is for somebody like me to get on there and say, 'Let's talk about the human being and what he needed.'"
Rather than gun regulations, Breitlow said potential shooters would more likely be stopped if they are shown love and support. He said kids could be averted from a violent path if they receive positive attention, a healthy diet, good exercise and less screen time. He also advocated for an idea promoted by Dr. Daniel Amen that brain scans could help identify areas for mental health treatment that could prevent violent acts.
Breitlow said feedback on his book so far has been positive, as have the messages he always gets this time of year from people who knew his father — especially people from Wauwatosa.
"Sometimes I miss my dad when I'm skiing the mountains; sometimes I'll just cry because I miss him," Breitlow said. "I'm much more at peace after December 1 because of the outpouring of love. He was just that kind of man that would bring out the best in everyone. That's my goal: to bring out the best in everyone."
Find the book
Breitlow's book was published by M&B Global Solutions of Green Bay. It is available on Amazon.com in digital and paperback formats by searching "Jay Breitlow."