Wauwatosa woman donates hair to good cause 70 years after it was cut
Suzanne Badten finally gave her hair to Locks of Love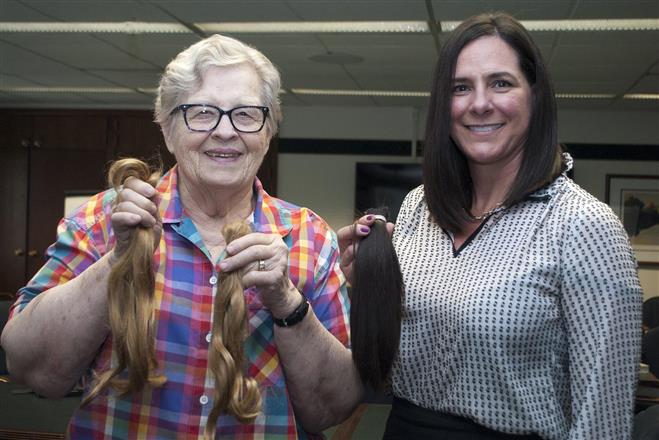 A self-described "pack rat," 83-year-old Suzanne Badten is a collector of memories from the past.
"There are a lot of things I'd loathe to part with," Badten said as she peered around her apartment at Luther Manor, a senior living community off 92nd Street in Wauwatosa.
Old photographs of family members date back to as early as 1890 and hang above her living room sofa, in the apartment's long hallway, and above a wooden hutch.
Her home is adorned with relics, which is why it came as no surprise when Badten opened up her cedar chest one day and pulled out a pair of long, wavy, golden blonde bundles of hair, cut more than 70 years ago.
Behind the hair
It was 1943 and the United States was engaged in World War II. At the time, Badten was 10 years old and growing up in a small town 30 miles east of Seattle when she saw an advertisement in the newspaper calling for donations of long, blonde hair to be used as the cross hairs in bomb sights, she said.
Full of patriotic zeal, Badten realized that, aside from collecting cans for metal donations, there was little a girl her age could do to support the war effort. She headed to the hair salon to cut off her long, blonde locks — much to the dismay of her mother, who so loved her daughter's hair.
But the hair was never donated toward the war effort; it was cut too short, just shy of the length requirement needed to make bomb sights, Badten said.
"They could have cut it shorter. I certainly had enough hair for it," she said. "I was very disappointed."
So Badten kept the hair in a cedar chest that traveled with her across the country where her family or life took her — from Washington to Wyoming and finally to Wisconsin.
Donating the hair
Earlier this year, when President and CEO of Luther Manor Stephanie Chedid announced she'd be donating her hair to Locks of Love, a nonprofit organization that provides hairpieces to financially disadvantaged children suffering from long-term medical hair loss, Badten realized it was the perfect opportunity to donate hers, too.
Badten collected her two bundles of golden hair, tied together at the ends with a piece of thread, deposited them into an envelope and mailed them to Locks of Love.
It's difficult to know when Badten's hair arrived at the Locks of Love office in South Beach, Florida as the small office of six employees does not track or count the number of donations and volunteers do much of the sorting, said the organization's Communications Director Lilly Robbins.
Robbins said donated hair to Locks of Love cannot be bleached and it takes about 9 or 10 donations to make a prosthetic hair piece, which are made to order and custom-designed.
"They can't be ripped or pulled off," Robbins said, adding it takes between 4 and 5 months to create one prosthetic hair piece.
As for Badten, she said she's happy the hair could go to a good cause. She said there are still many prized relics in her home left to sort through.
E-mail Newsletter
Your link to the biggest stories in the suburbs delivered Thursday mornings.

Enter your e-mail address above and click "Sign Up Now!" to begin receiving your e-mail newsletter Get the Newsletter!