South Milwaukee Girl Scouts win award in state robotics competition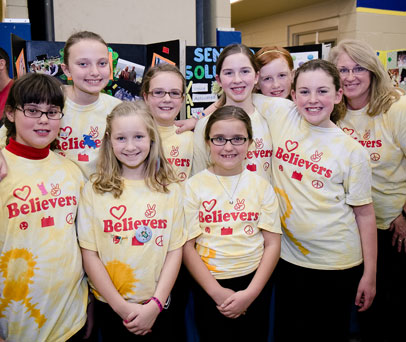 Eight girl members of Girl Scouts of Wisconsin Southeast, all students at Blakewood Elementary School in South Milwaukee, placed first in the Gracious Professionalism category at the December 8 FIRST ® LEGO® League "Senior Solutions™" Challenge State Competition held at Mukwonago High School. The team also received an award for Gracious Professionalism at a recent regional competition.

In addition, Coach Jennifer Czajka received the Coach/Mentor Award. "Coach Jen is so much fun, supportive and always there to help us but without giving us the answers - which we like," said members of the Believers Team, who nominated Czajka for this award.

Applying research and robotics to explore improving quality of life for seniors, Gillian Czajka, Morgan Dziondziakowski, Brianna Gaidosh, Heather Kluczykowski, Jazzee Molus, Sarah Mosinski, Kylie Norman, and Nicole Schilder, also known as the Believers Team, were among the twenty-six girl members of Girl Scouts Wisconsin Southeast that competed on four separate teams incorporating creativity and science to help seniors stay independent, engaged and connected.

The Girl Scouts, with support from coaches Jennifer Czajka, Kathee Molus, Michelle Pollard, and Susan Gaidosh, researched one of today's most relevant topics: aging, and how to counter the effects of aging while maintaining a good quality of life. With missions including mobility, flexibility, balance, and memory, the teams programmed their LEGO MINDSTORMS® robots to further explore these issues.

Sponsored by Time Warner Cable Wisconsin, the Believers Team was among the 230 teams in the state of Wisconsin that competed in one of eight regional tournaments and the 59 teams that earned the right to advance to the State Tournament this year.

Participation in the FLL is just one of many ways Girl Scouts introduces girls of every age to science, technology, engineering and math (STEM) activities that are relevant to everyday life. Whether they're discovering how a car's engine runs, becoming math whizzes, or learning about careers in STEM fields, girls are moving forward into the future. They can design Web sites, plan for space exploration, visit geological sites and more.