Milwaukee Lutheran's Bel Canto Choir Presents Riverdance Musical Selections Dec. 14-15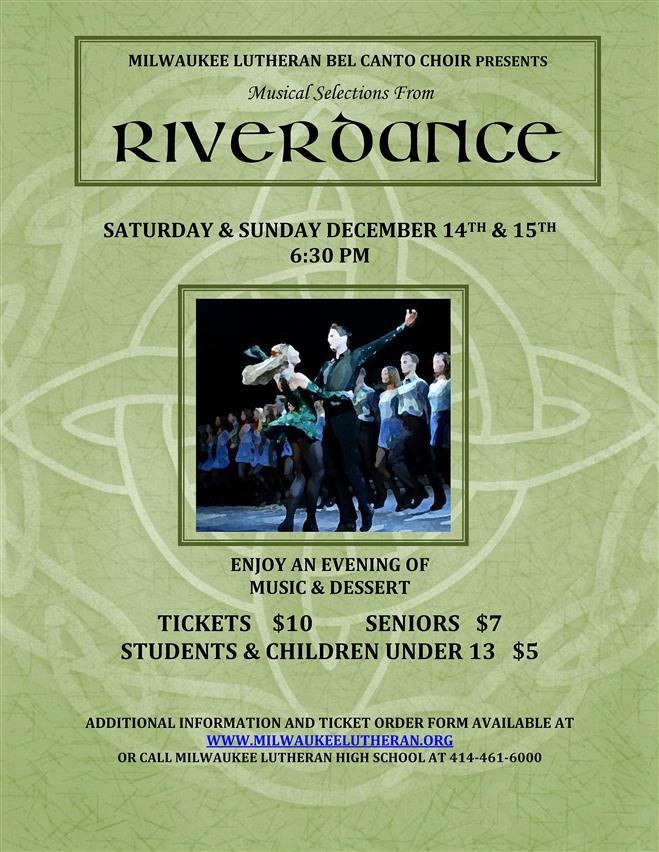 The Bel Canto Choir of Milwaukee Lutheran High School, 9700 W. Grantosa Drive, will present musical selections from "Riverdance" on Saturday, December 14 and Sunday, December 15 at 6:30 pm in the school's gymnasium. Join us for a sweet evening of music and dessert!

Ticket prices are $10 for adults, $7 for seniors and $5 for students, and dessert is included. Please request your ticket reservations before December 10th on the school's website at http://www.milwaukeelutheran.org/apps/news/show_news.jsp?REC_ID=339396&id=0 and mail it to the school.

Milwaukee Lutheran High School (MLHS) is a full accredited, four-year, Christian high school serving students from the greater Milwaukee area. Milwaukee Lutheran is owned and operated by an Association of Lutheran Church – Missouri Synod (LCMS) congregations. Originally established in 1903, Milwaukee Lutheran has twice been recognized by the U.S. Department of Education as a National Blue Ribbon School and by the LCMS as a Recognized School of Excellence. For more information, visit http://www.milwaukeelutheran.org/.